Getting a new knee at 93 years young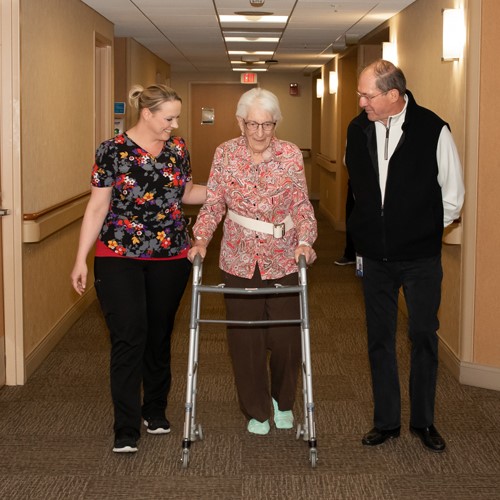 For Lorena Hekkel, age is not slowing her down. Last week, Dr. James Scott, who is an orthopedic surgeon, replaced Lorena's knee. At age 93, she is doing well and recovering from the inpatient procedure that was done at Sidney Health Center. 

Following a short stay in the hospital, Lorena transferred to Roosevelt Medical Center's nursing home for rehabilitation to be closer to family and reside in her hometown of Culbertson. She will continue physical therapy there and hopes to have her other knee done in three to six months. 

"Dr. Scott was wonderful. He did an amazing job. I'm glad that he decided to do the surgery," commented Lorena. Typically, people assume that at a certain age doctors automatically exclude patients from the option of surgery. 

On the contrary, doctors are far more interested in the overall health of the individual rather than their chronological age. The orthopedic surgeon will focus on three key areas when evaluating patients for a knee or hip replacement including current health status, physical strength and cognitive function to withstand the surgery.

Sidney Health Center's orthopedic team is comprised of three orthopedic surgeons and a family nurse practitioner including Dr. James Scott, Dr. Kimberly Burgess, Dr. Eric Sigmond and Janie Darby, FNP. Together, the orthopedic team treats a wide-range of cases including upper and lower extremities including hips and knees as well as hand and wrist conditions such as osteoarthritis and carpal tunnel syndrome.

To see the full range of services offered at Sidney Health Center, visit the website at sidneyhealth.org. 


Dr. James Scott
Dr. Kimberly Burgess
Dr. Eric Sigmond
Janie Darby, FNP