The Lodge has Reason to Celebrate!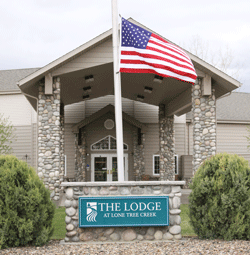 This year, 2010, The Lodge has served the community for ten years bringing a valuable, independent and assisted living environment to the Sidney community. The Lodge offers individually designed services and the independence of individual apartments, but also the enjoyment of companionship with staff and other residents. To celebrate, The Lodge will be hosting Chamber After Hours on May 13th from 4:30-6:00 PM, and a community celebration with live music and food on Sunday, June 6th at 4:00 PM. Be sure to join us! Everyone is welcome.
When things change, sometimes planned –other times unexpected, regardless of the source of change, seniors hope to continue a good quality of life. The Lodge can assist residents with maintaining independence. Although the transition from a house to an apartment is something individuals or couples might not want to do, there are definite advantages. Staying healthy with the many services The Lodge offers, can aid in staying healthier longer and maintaining a happier well-being.
The top ten reasons to enjoy living at The Lodge are:
1. Three meals a day – The cooks prepare meals for you, with choices!
2. Social Interaction – Activities, community, friends, neighbors!
3. Secure environment – 24-hour staff, fire and smoke alarms, sprinkler system!
4. Services as you need them – Housekeeping, laundry, bathing, medication assistance, transportation, linen changes, concierge service!
5. Independence – Your own apartment, yours to decorate, your home!
6. Wellness monitoring – Registered nurse on staff, certified nurses aides, resident assistants, scheduling of physician visits, exercise, diabetes monitoring!
7. Resident trust accounts – No need for cash on hand!
8. Maintenance free – No shoveling snow, no mowing lawn!
9. Cable TV & Utilities included – No more cable or utility bills!
10. Your family and friends will be confident that you are in a secure environment!
The Lodge residents enjoy a variety of physical exercises. Along with chair exercises, the residents visit Sidney Health Center's HealthWorks three times a week. The beautiful park outside also offers a great walking path. Mental exercises include a book club, writing club, card games, bingo, and much more! Crafts, entertainment, and holiday parties are also fun opportunities.
Many seniors are concerned about cost. Consider completing a cost comparison regarding home monthly costs such as utilities (electric, gas, water, garbage), food (groceries, restaurants), cable tv, housekeeping services, yard maintenance services, home maintenance (new roof, plumbing, home modifications for aging), home mortgage and insurance, transportation costs (auto, maintenance, gas, insurance), and social activities versus living at The Lodge that offers the services seniors deserve.
The Lodge is also very proud of its staff members. Several have been chosen as "Employee of the Month" for Sidney Health Center. The well-trained staff offers services in a caring and professional manner. The staff is also active in supporting the community in various projects.
The Lodge—receiving the care one needs, but promoting the individuality of each person that resides with the warm, comfortable atmosphere of home. Come Home to The Lodge!