Sidney Health Center unveils State-of-the-Art Emergency Department: A Celebration of Excellence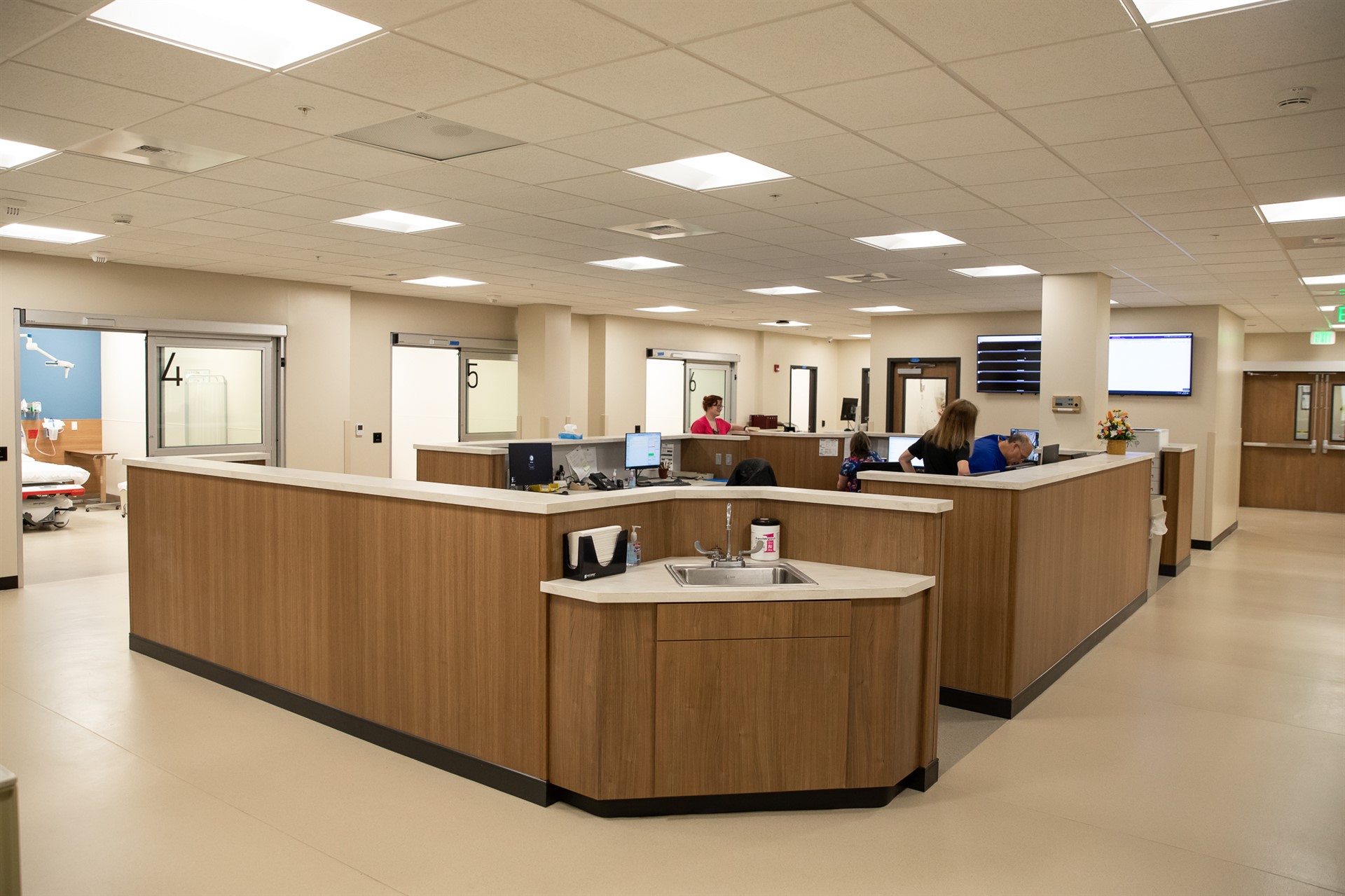 Sidney Health Center is thrilled to announce a milestone occasion that symbolizes a leap forward in the delivery of emergency medical care in Richland County and the surrounding area. The eagerly awaited Emergency Department Ribbon Cutting and Open House is set to take place on Thursday, October 12 from 4:00 to 6:00 PM, marking the completion of a remarkable renovation and rebuild.
To kick-off the celebration, the Sidney Area Chamber of Commerce will be onsite to perform the official ribbon cutting ceremony at 4:15 PM with representation from the Board of Directors, physicians, clinical staff and administration. Following the ribbon cutting, there will be a brief program featuring the Chief Executive Officer, Jennifer Doty and Dr. O. Pete Council, Emergency Room Medical Director. 
The tailgate-style celebration will take place in the new ambulance garage with hot dogs, brats and refreshments provided. In addition, there will be virtual and small group tours of the newly renovated space. This event promises to showcase Sidney Health Center's commitment to serving the community by unveiling the enhanced healthcare facilities and patient-centered practices.
"We are so excited to open the doors and celebrate a new era in emergency medicine at Sidney Health Center," explained Jennifer Doty, CEO. "This renovated Emergency Department reflects our unwavering commitment to providing exceptional care to our community with compassion, expertise and innovation at the forefront." 
In 2022, Sidney Health Center embarked on an ambitious journey to overhaul its Emergency Department that was originally built in 1983. In 2023, this vision has become a reality. The $4.8 million transformation involved not just a facelift but a complete reimagination of how emergency care should be delivered. The result is a cutting-edge facility that aligns with modern emergency medicine practices, prioritizing patient comfort, safety, and efficient care delivery.
One of the most striking features of the renovated Emergency Department is the redesigned patient flow. The layout has been methodically planned to ensure efficient movement of patients in and out of the ER, minimizing wait times and optimizing the delivery of medical care. Larger patient rooms offer comprehensive monitoring and treatment, regardless of the presenting condition, while soundproofing and privacy measures have been integrated to create a peaceful and confidential atmosphere for patients and their families.
Moreover, the new Emergency Department includes state-of-the-art infectious disease protection measures, making it well-equipped to manage emerging infectious diseases effectively, enhancing its role as a healthcare leader in the region.
The expansion isn't limited to the treatment rooms alone. The hallways have been widened to facilitate smoother patient flow, and the nursing control station has been extended to enhance flexibility in handling multiple patients, especially in times of disaster and trauma situations.
Through the years, Sidney Health Center's Emergency Department has evolved into a regional center for emergent medical needs. It boasts a dedicated team of board-certified physicians and critical care nurses who are available around the clock to provide high-quality care. Additionally, Sidney Health Center maintains 24/7 access to General Surgery, OB/GYN, and ENT specialists to support the ER team.
"Our Emergency Department physicians are dedicated to Sidney Health Center and the patients we serve," emphasized Dr. Council. "They may not live in Sidney full-time but many of them have been working in our ER for years. Our physicians are on a rotating schedule who work for significant lengths of time in the ER. As the medical director, I am in constant communication with these doctors to ensure continuity of care for our patients."
What sets Sidney Health Center apart is its strong network of partnerships and resources, including its very own air ambulance service known as Care Flight. Collaborations with St. Vincent Hospital and Billings Clinic in Billings, Montana, as well as hospitals in Salt Lake City, Utah, and Denver, Colorado, ensure that patients can be transferred to receive the best care, when a higher level of medical treatment is critical. 
In addition, the Emergency Department serves as a vital support system for the facility's Cancer Care Center and numerous smaller medical facilities throughout Northeast Montana. In fiscal year 2023, the ER treated over 6,000 patients, the Richland County Ambulance Service did 538 runs throughout the county, and the Care Flight service provided 386 flights from Sidney Health Center and surrounding facilities. 
Links