Emergency Department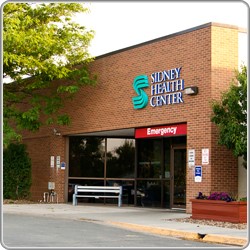 Sidney Health Center's emergency department is staffed by personnel who are trained in emergency care including a team of physicians, nurses, hospital personnel and EMTs, who provide emergency services 24/7. The emergency department takes care of major and minor illnesses and injuries. 
Certifications include:
American Heart Association Advanced Cardiac Life Support

Pediatric Advanced Life Support

Emergency Nurse's Association Trauma Nursing Care Curriculum
Several of the Registered Nurses at Sidney Health Center are Certified Emergency Nurses through the Emergency Nurse Association.
Contact Us
Hours
24 hours per day and 7 days a week

Location
On Campus

Phone
406-488-2100

Fax
488-2547