Richland County Ambulance Service Offering First Responder Course 2010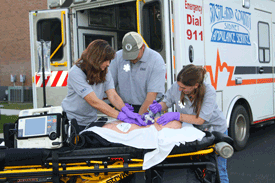 The Richland County Ambulance Service (RCAS) will be holding a First Responder course starting in early October for individuals interested in helping their community through the ambulance service. This course has been offered twice over the past year and currently 12 First Responders are now assisting the ambulance service.
As Eastern Montana becomes more rural, it is critical for emergency medical services to be available at all times, in all locations. Richland County is fortunate to have ambulance services spread throughout the county and a dedicated volunteer team, but the service has been experiencing an increase in call volume and EMTs need relief.
"Adding the First Responder program has given more individuals an opportunity to be involved with the Richland County Ambulance Service and has brought some much needed relief to each of our services around the county," stated Josh King, RCAS Director. "We hope that this course will continue to have a good turn out and add additional reinforcement to our volunteer service while still providing Richland County with the best care possible."
The First Responder course is designed to be a shorter time commitment than the EMT Basic class while retaining much of the crucial training involved, allowing them to become valuable assets on the ambulance. The course will cover a broad range of emergency medical subject matter, and will provide individuals with the knowledge to assist on the ambulance. Aside from classroom lessons, the course also focuses on hands-on skills stations that work to develop teamwork skills and prepare students for real life emergency situations.
People of all ages and backgrounds are encouraged to sign-up for the upcoming course. Classes will be held for three hours at a time, two days a week. The course will offer interested individuals the chance to learn the skills of emergency medicine through a more conducive time schedule. Becoming a first responder will require 54 hours of training, spanning about 8 weeks. Upon completion first responders will have the option to take a course that transitions them into the EMT Basic level.
An EMT's job is to respond to medical emergency situations, treat and stabilize the patient on scene and in transport, and to deliver the patient to the hospital for additional care. First responders' primary job is to drive the ambulance, and assist with patient care at the scene. This will allow the opportunity to gain real-world experience in the field, while the EMT Basics can focus their attention primarily on patient care during transport.
It is expected that one to two months after this First Responder class is finished there will be a course that transitions First Responders to the EMT Basic level. Participants must have completed the First Responder course before they can enroll in the EMT Basic course. After these two courses are held there will be a one to two year break before another class is offered.
"We really appreciate anyone that can put in their time and effort," said Lana Whitney, EMT with the Ambulance Service. "You will be an asset to our communities. It is an important, rewarding and fun job."
"Not all calls are dire emergencies, but each call demands the same level of professionalism and compassion," stated King. "We function as strongly as we do because we stand together as a service. In the field, our individuality gives us versatility but our team work gives us strength. We are doing great but we do need more help."
EMS is a genuinely rewarding and exciting field that provides individuals with the chance to make a real difference in people's lives. Individuals interested in training to become a First Responder should call the Richland County Ambulance Service at (406) 488-2180 to reserve an interview session.