Sidney Health Center breaks ground on Cancer Center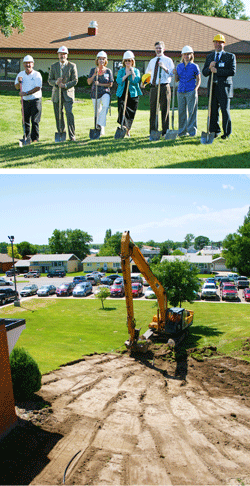 Sidney Health Center broke ground Monday, July 12 on a $3 million Cancer Center. Crews started excavating the ground between the clinic and extended care to prepare the area for construction.
"This is an exciting time for Sidney Health Center. It has been a remarkable team effort from the board, staff, doctors [Bennion and Harrison] and county to get this project off the ground. We are thrilled to finally be breaking ground with a vision and purpose dedicated to treating cancer patients and their families right here in Richland County," stated Rick Haraldson, Sidney Health Center CEO.
Radiation Shielding Systems, out of Chester, NY, is the general contractor of this two phase project. Phase I entails building the vault and shelling in the area to the west of the clinic. Phase II of the Cancer Center is to complete renovation in order to relocate medical oncology (chemotherapy) so that all outpatient cancer treatment is in one centralized location with its own private entrance.
Phase I of the project is anticipated to be completed within a few short months with the purpose of providing radiation therapy to local residents. This portion of the project will be funded through existing construction monies and designated funds from the Foundation for Community Care. Stockman Bank also agreed to finance the radiation equipment portion for the new Cancer Center.
"The technology we will be adding for radiation therapy will be the most significant improvement in cancer care for the MonDak region in the past decade," stated Dr. Lyle Harrison, Sidney Health Center's radiation oncologist.
"Hats off to Rick Haraldson, Jen Doty, Theresa Livers, Dr. Brett Bennion and the hospital board for their substantial efforts in support of this endeavor," continued Dr. Harrison. "I am delighted to be a part of this exciting project as it will benefit a large geographic area by decreasing travel time and enabling patients to spend more time at home with their families."
As indicated, Phase II of the Cancer Center is to relocate chemotherapy and provide a separate, private entrance to the center. Funds for this phase is planned to come from a community fund drive. The Foundation for Community Care is hoping to raise enough funds so the phases can be completed simultaneously.
The first fundraising event is set to take place Saturday, July 17 at the Richland County Event Center, Richland County Fairgrounds. A benefit concert will be held at 7:00PM with admission of $20 per ticket in advance and $25 per ticket at the door – children five and under are free. The concert is entitled "A Season of Hope" and promises to be an inspirational event featuring local talent and a special seven-year-old gospel singer from Texas.
"We are thrilled to have such a talented young girl by the name of Rhema Marvanne kick-off our fundraising drive," stated Staci Miller, Foundation for Community Care Director. "She is a true inspiration with a powerful message especially for those who have been touched by cancer either as a patient or caregiver."
The Richland County Thrivent Financial Chapter is also stepping forward to help this great cause and will be handing out free ice cream bars at the benefit concert. To donate to the Cancer Center fund or to buy a ticket for the benefit concert, call the Foundation for Community Care at (406) 488-2273.