New Protocols Adopted for Postpartum Hemorrhaging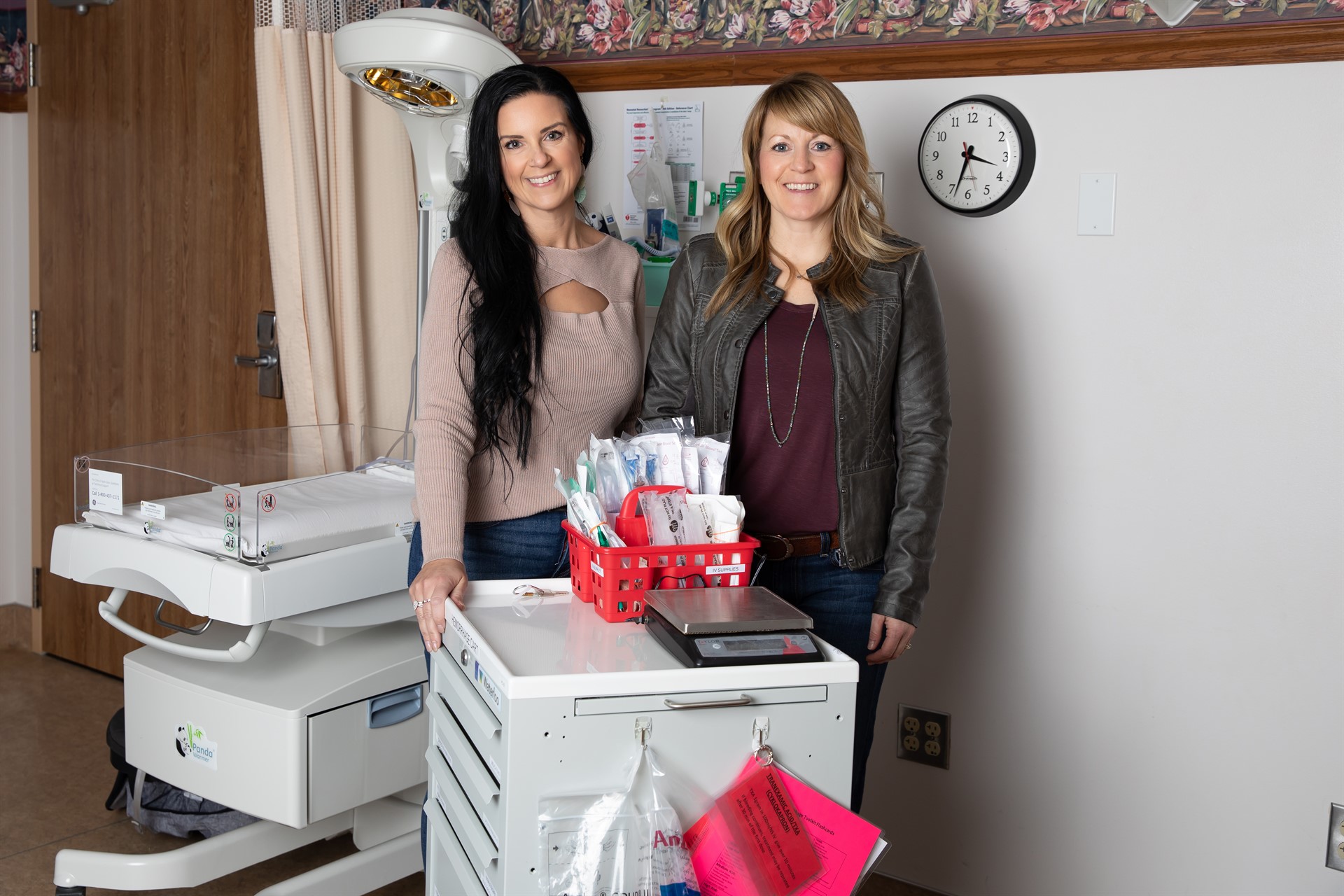 In April 2022, Tami Larson and Jennifer Reid represented Sidney Health Center's Obstetrics Department on an educational quality of care panel at the 2022 Montana Perinatal Conference in Chico Hot Springs. Both are long-standing registered nurses in the maternity ward at Sidney Health Center and presented the successful implementation of a hemorrhage cart with protocols. 

A hemorrhage cart is a cart that is supplied and ready for postpartum hemorrhage emergencies. The well-stocked cart allows clinical staff to have quick access to equipment, supplies and medications needed for moms who are at risk for excessive bleeding following a delivery. The cart helps staff provide care quickly and in a safe professional manner.

To get the cart up and going, Larson researched what was needed in the cart and how other hospitals stock them. After researching, she worked collaboratively with physicians, pharmacy and nursing to ensure the cart was properly stocked with the necessary instruments, medications and educational tools to treat an emergency hemorrhage. 

The cart is fully stocked and stored in the supply closet. If a patient is identified with a history of postpartum hemorrhage (PPH) or displays risk factors, the cart is placed outside of the patient's room during delivery. To standardize the use of the cart, flashcards are included to guide nurses through a risk assessment, stages of PPH, utilization of medications and when to request assistance from other departments such as lab or respiratory therapy. 

Through education and simulated trainings, the clinical staff practices the protocols and becomes familiar with the medications and supplies on the cart. The flashcards make the process straight forward and helps to ensure safe, quality care in an emergent situation. 

"We have experienced tremendous support from physicians and administration with the hemorrhage cart," exclaimed Larson. "It's very rewarding to streamline a process to ensure safe quality care is always a priority for our expecting moms. We have already started working on our next collaborative, which is hypertension in OB. I'm very excited to see the changes and improvements that will come with this initiative." 

Four Sidney Health Center nurses, including Larson and Reid, participated in the Montana Perinatal Quality Collaborative (MPQC) to implement the Alliance in Maternal Health (AIM) Obstetric Hemorrhage Patient Safety Bundle. Since the implementation of the cart, OB has utilized the cart a couple of times. It can also be easily transported to the ER or surgery department if there is an emergency hemorrhage in their respective area. 

Sidney Health Center is proud to be a part of MPQC and dedicated to continually improving and evolving patient-centered care. MPQC is a network of maternal and infant care providers and public health professionals working toward improving health outcomes for birthing mothers and babies. AIM is a national data-driven maternal safety and quality improvement initiative focused on reducing preventable maternal morbidity and mortality. 
Links