Good Cents Store makes large donation to Sidney Health Center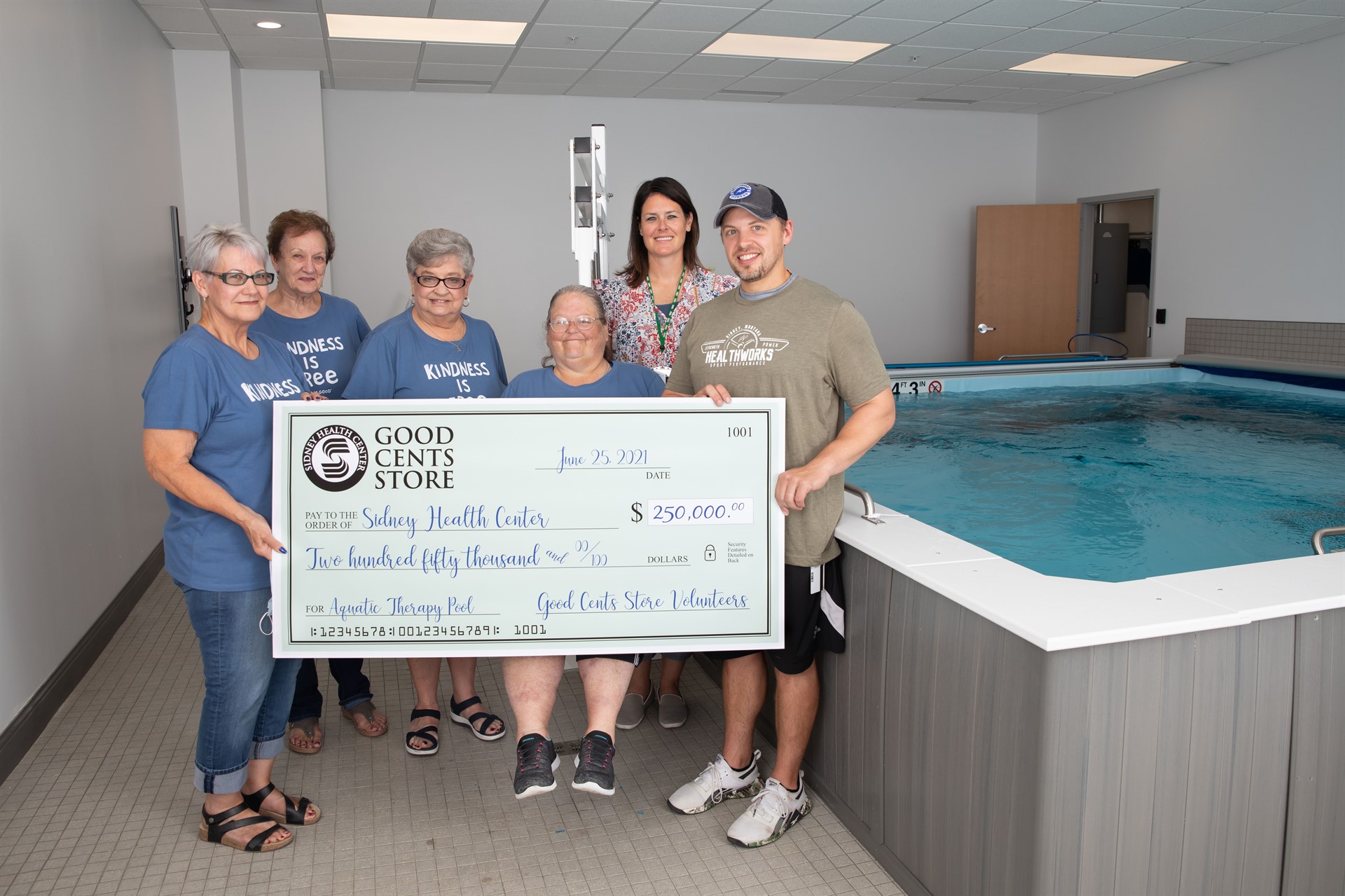 For more than 30 years, the Good Cents Store and its volunteers have been raising and donating money to Sidney Health Center to assist with purchases of medical equipment.  These donations have made significant impacts on services and patient care offered at Sidney Health Center.

The Good Cents Store recently donated $250,000 towards the Sidney Health Center Rehabilitation Services Aquatic Therapy pool project.  These funds assisted with the purchase of a 15' x 15' Endless Pool where patients of all ages can benefit from water therapy.

"This donation was substantial in Rehabilitation Services being able to offer this much needed service," stated Nicole Keysor, Rehab Services Director.  "Some patients struggle with land-based therapy due to pain and balance issues.  With aquatic therapy, the warm water helps to relax and sooth aching joints and muscles as well as offer an opportunity for a low impact workout," continued Keysor.

"We are extremely grateful to the Good Cents Store volunteers for this very generous donation that will allow us to impact the lives of many patients," said Keysor.
The Good Cents Store was started by two local women in 1987 to raise money for medical equipment at the hospital. Originally, second-hand items were sold out of the founder's garage and proceeds were donated to the hospital. Since then, the retail business has grown, evolved and relocated to its current location at the end of East Main in Sidney. 

Today the Good Cents Store continues to be run by volunteers who sort through donated items and identify things that are worth reselling based on their condition and value. 

"Being able to make a substantial donation like this is the reason we do what we do," stated Carla Houchen, Good Cents Store Director.  "Because of our donors and volunteers, we are able to help people have access to higher quality healthcare in our community."

"We have an amazing and dedicated group of individuals that volunteer their time at the Good Cents Store," continued Houchen. "None of what we do would be possible without their commitment."

Sidney Health Center's Good Cents Store is open Monday through Friday from 9:00 AM to 4:00 PM and Saturdays from 12:00 to 3:00 PM. Donations are always welcome during regular business hours.
Links