Sidney Health Center Announces Air Ambulance Service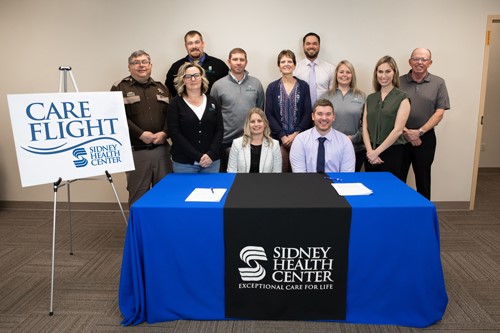 Sidney Health Center is excited to announce a joint venture with fAIRMED, a critical care transport company, to bring an affordable air ambulance service to residents living in the MonDak region. Through donations from the Foundation for Community Care and Richland County, Sidney Health Center was able to secure $2.9 million in funding to purchase a plane for a new air ambulance service known as Sidney Health Center Care Flight.
Donations in the amounts of $1.9 from the Foundation for Community Care and an additional $1 million donation from the Richland County Oil Severance Fund took the financial pressure off Sidney Health Center to move forward with the valuable community service.
"We have seen the stress and financial burden a medical emergency flight puts on our patients and their families," stated Jennifer Doty, Sidney Health Center Chief Executive Officer. "The need to explore our options became apparent as we continued to work on behalf of our patients to provide an onsite air ambulance option while addressing unreasonable emergency flight charges."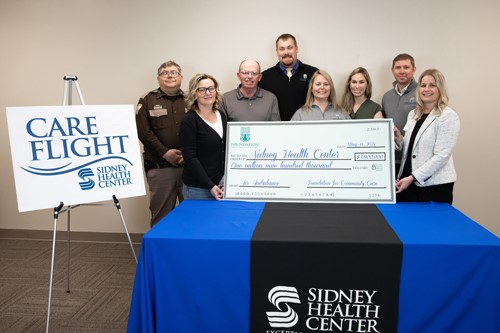 "When we were offered a chance to partner in this venture, we were thrilled to be a part of it. Getting Richland County residents the care they need when they need it is part of our mission at the Foundation. The Sidney Health Center Care Flight is a great example of community resources working together to ensure access to critical care," stated Carl Dynneson, Foundation for Community Care Board Chair.
"The generous support of donors to the Foundation allows us to dream big and explore new service lines that are rarely found in communities our size including the cancer care center and now an air ambulance service," Doty explained. "This is a direct result of the community's continual support and the Board's vision to keep quality healthcare close to home."
The new service is slated to be in operation by late-summer 2021 offering emergency flights from Sidney Health Center to larger regional healthcare centers for patients suffering from a heart attack, stroke, or major trauma, who require specialized treatment. With an air ambulance based out of Sidney, it takes the guesswork out of coordinating an emergency flight depending on availability.
"In reviewing all the information, we believe this partnership will provide a sustainable and affordable air ambulance option for our community and the surrounding area," stated Lance Averett, Sidney Health Center Board President.
On behalf of the Richland County Commissioners, Duane Mitchell agreed, "This is a good investment for the future as all residents of Richland County and the surrounding area can benefit from a local air ambulance service."
For several years, Sidney Health Center has witnessed the devastating financial burden on patients and their families who require an emergency flight to a regional hospital in Billings, Bismarck, Denver, or Salt Lake City, to name a few. Over the last year, Sidney Health Center explored several options to secure a fixed wing based in Sidney and address the egregious billing through for-profit entities. This included an extensive operational and financial analysis before entertaining the strategic move to add this much needed service locally.
The Sidney Health Center Board of Directors approved to move forward with the partnership and new air ambulance service, confirming a flight team and airplane will be based out of Sidney. In calendar year 2020, Sidney Health Center averaged around 17 flights per month, totaling 214 emergency flights.
"fAIRMED was identified as an excellent partner," exclaimed Doty. "Their mission to eliminate egregious billing practices with a commitment to providing high quality service aligns perfectly with our mission to provide the highest level of health and well-being. Patients and their family should not have to make the decision to transfer their care based on cost implications and risk their health status in doing so."
fAIRMED was started in 2018 with the purpose and passion to serve those needing emergency flights, they set up a successful partnership with one of the largest hospital systems in North Dakota that utilizes this same model. Sidney Health Center is excited to take its level of care to new heights through this innovative partnership.