Conlin receives Oncology Nursing Certification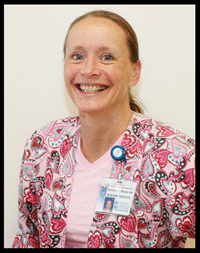 Sidney Health Center is pleased to announce Rhonda Conlin, RN recently became an Oncology Certified Nurse through the Oncology Nursing Certification Corporation (ONCC). Conlin successfully met all eligibility and testing requirements prescribed by the ONCC Board to become certified in adult oncology nursing.
The Oncology Nursing Certification Corporation (ONCC) is a non-profit organization that develops, administers, and evaluates programs for certification in oncology nursing. ONCC was incorporated in 1984 and is governed by a Board of Directors, who represents various levels of certification in oncology nursing and the public at large.
The mission of ONCC is to promote excellence in patient care and professional practice by validating specialized knowledge in oncology nursing and related specialties.
Conlin has worked in the medical oncology department at Sidney Health Center for just over three years. The department is comprised of four registered nurses, who are certified in chemotherapy and biotherapy administration by the Oncology Nursing Society, including Judy Carda, RN, Carla Bright, RN, Brenda Eberling, RN, and Conlin.
To date, Conlin is the first member of the team to pursue both oncology nursing certifications and receive the OCN® designation, reinforcing her commitment to continue providing quality care to cancer patients who live in Richland County and the surrounding areas.
"With the recent expansion of our services to include radiation therapy, I felt it was the opportune time to further my education in oncology nursing. I am committed to providing the best possible care to area chemotherapy patients and am hopeful that Phase Two of the Cancer Center will become a reality," commented Conlin. "Our patients deserve it!"
Since 1989, Sidney Health Center has been providing prescribed chemotherapy and IV therapy treatments as well as education and support for patients and their families. Currently, the medical oncology department is located in the ER area which utilizes one of the ER bays as well as an office/treatment room to administer chemotherapy and IV therapies.
One of the goals at Sidney Health Center is to have chemotherapy and radiation therapy centrally located at the Cancer Care Center and streamline patient care by completing Phase Two of the project. This phase is dependent on support from the community and is projected to cost $1.4 million. To date, the Foundation for Community Care has raised nearly $450,000 for the medical oncology service.