Halvorson Completes Doctorate Program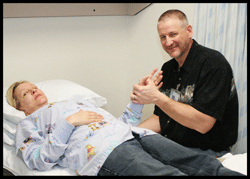 Sidney Health Center is pleased to announce Kirby Halvorson, Rehabilitation Services Director, recently completed all degree requirements for the rigorous transitional Doctor of Physical Therapy program at the University of Montana.
The program is administered in collaboration with a group called Rehab Essential and features faculty that are nationally recognized as content area experts. The 20 credit program is designed for working professionals and included advanced areas of study in medical screening, medical imaging, pharmacology, ethical/legal issues, clinical decision-making, business and marketing, professionalism and evidence-based practice.
The curriculum culminated in a scholarly Capstone project entitled: "Successful Functional Outcome in a Patient with Multiple Medical Complications after Total Knee Arthroplasty." Halvorson completed the degree with a 4.0 GPA, and was the first in his cohort to complete the Capstone project. Commencement for the program is scheduled for May 14th, 2011.
Under Halvorson's direction, the rehabilitation staff at Sidney Health Center provides physical, occupational and speech therapy services in multiple venues including inpatient, outpatient, home health/hospice and area schools. The department treats patients with a wide variety of medical conditions and takes pride in individualizing the therapy program to each client based on their injury, disorder or illness.
Sidney Health Center's rehabilitation services are located on campus with office hours Monday through Friday from 8:00 a.m. to 5:00 p.m. Special appointments are available upon request by calling (406) 488-2166.