Cancer patients receive a ray of sunshine through care package program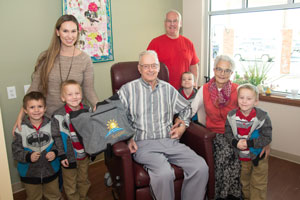 During Breast Cancer Awareness Month, Sidney Health Center kicked off a new program for all cancer patients in honor of Theresa Livers, who was a breast cancer survivor and healthcare leader. Theresa's Sunshine Care Packages feature a large tote with personal care items that will be given to new patients receiving chemotherapy, radiation therapy or both at Sidney Health Center's Cancer Care.
Theresa embodied the spirit of community, generosity, and leadership. During her healthcare career of more than 35 years, Theresa worked in both North Dakota and Montana ranging from hospitals and nursing homes to community health and academic settings, either in direct care or management positions. She held executive positions at Sidney Health Center for over 25 years, most recently serving at the interim Chief Executive Officer.
Theresa passed away in May 2018 after a valiant fight with cancer for more than 20 years; however, it never defined her. In fact, she became an inspiration to many and lived every day to the fullest. As a community leader, caretaker and mentor, Theresa had the innate ability to help people realize their potential and make the best of any situation.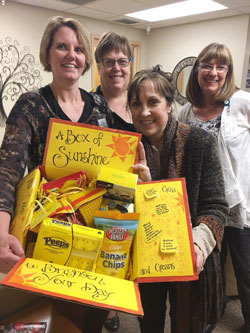 "Theresa made it her personal mission to serve others not only in her role as a healthcare leader but in the community as well," noted Jen Doty, Sidney Health Center CEO. "The care packages are one way we can keep Theresa's legacy alive. She understood the importance of hope, faith and looking for the good in every day." Inspired by years of nature's beauty, Theresa's final request to friends, family and co-workers was to "Live More, Love More."
The Sunshine Care Packages are made possible through a designated fund at the Foundation for Community Care in hopes of bringing comfort and peace to those who are diagnosed with cancer and treated at Sidney Health Center. Within the last year, cancer care treatments have increased more than 150% with the addition of full-time medical oncologist, Dr. Chad Pedersen and radiation oncologist, Dr. Ralf Kiehl.
The need to provide cancer care services close to home is evident by the growth in this service line. The cancer care team is comprised of oncologists, specialists, nurses, pharmacists and therapists who take the time to understand and guide area cancer patients through their care plan. To find out more about the cancer care services, visit the website at sidneyhealth.org or call the Cancer Care Suite at 406-488-2504.