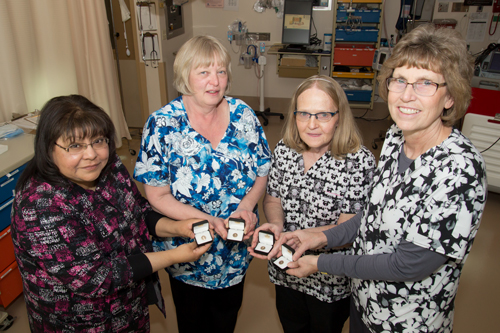 In the past 40 years, a lot has changed in healthcare including technology, hospital stays, patient information and smoking in the common areas. Living and working through these changes, four long-term employees at Sidney Health Center were recently recognized for 40 years of dedicated service respectively.
From the days of nursing caps and white dresses, Twyla Gustafson (RN), Kay Hatter (RN) and Kristi Hatter (LPN) have transitioned to colorful scrubs, 12-hour shifts, and electronic health records. Along their side, Connie Angel has worked in several capacities including pharmacy tech, receptionist and ward clerk.
"We grew up here," commented Gustafson, reflecting on the past 40 years. They have survived two oil booms, six nursing directors, six CEOs, numerous physicians, and thousands of patients. Their longevity alone makes them leaders in the organization.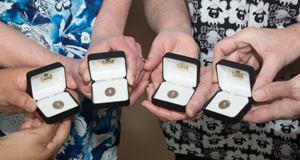 "The amount of knowledge in their 160 years of combined service is incredible," noted Pam McGlothlin, Director of Nursing. "They have taught many of us how to be resilient in the face of tragedy and adversity. I applaud their dedication to the mission and the people we serve."
Among the most memorable moments, Kristi Hatter, who is a Registered Polysomnographic Sleep Technologist, emphasizes that it is the small things. "A former patient wanting to introduce me to his mother so that she would know the nurse that made him feel so good. Another patient woke up after a sleep study and could not remember the last time they felt that good. Working with the patients is the best part of my job."
All four agree, the biggest change in healthcare has been the technology as well as the charting. "We went from writing everything down on a paper chart to entering it into a computer. I remember working with Dr. Cooper in the ER during a code and writing the times the medication was given directly on the medication boxes. This led to the implementation of code sheets," stated Connie Angel.
In 2014, Sidney Health Center transitioned to an integrated electronic health record to meet federal guidelines for the secure use and sharing of health information. With this transition, patients gained the ability to sign up for My Chart, which allows them to connect to their personal medical information when it is convenient for them. Patients can see test results, message their medical provider, pay bills online, and access their health information when traveling. 
"One of the advantages of My Chart is patients are informed about their health," stated Kay Hatter, who is a charge nurse in the ER. "One of the best things patients can do to help us deliver better care is to have a list of the medications they are taking. My Chart and other phone apps allow patients to have this information at their fingertips. Other patients just bring in a bag full of medication bottles. This works too!" 
Regardless of the advancement in technology, the fundamental element to great care is the people who deliver it. Teamwork among staff and the trust that is developed over time improves communication between staff and enhances the patient experience. The people are the pillars in the organization and 160 years of service deserves a standing ovation! Congratulations and thank you to Twyla, Kay, Kristi and Connie for your service to Sidney Health Center!