35 years later – HealthWorks makes a splash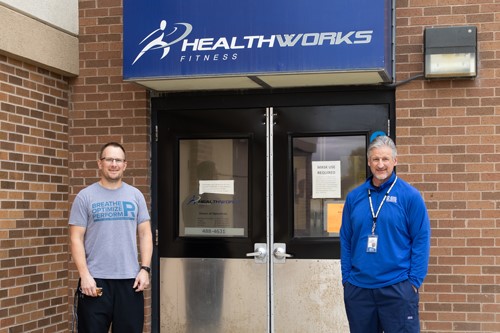 In the early 80's, Dr. Jimmie Ashcraft spearheaded a movement to build a fitness center in Sidney, Montana with the single purpose of providing a place for people to walk. At the time, there was a lack of exercise facilities for heart patients and the public to utilize, especially during the long winter months. 

This December marks the 35th anniversary of Dr. Ashcraft's relentless fundraising efforts to build a fitness center to aide in the rehabilitation of patients with heart disease and various health conditions. In the beginning, the fitness center, which is located below the emergency department of the hospital, featured a wooden floor with an indoor walking track. 

Three and a half decades later, the Community Health Fitness Center, which was renamed HealthWorks in 2001, continues to serve Sidney Health Center patients and the community at large through its group exercise programs, expansive weight and cardio equipment selection, and the infamous indoor track. 

True to its mission, HealthWorks started construction on a therapy pool project in collaboration with Sidney Health Center's Rehabilitation Department earlier this fall. With the installation of the 15' x 15' Endless Pool, Sidney Health Center's Rehab Services is excited to add onsite Aquatic Therapy (pool therapy) for patients.

"As the name implies, aquatic therapy involves using water as a medium to perform exercises and to achieve physical therapy goals," stated Kirby Halvorson, Rehab Services Director. "A variety of activities can be performed in water more efficiently compared to land based exercises."

This type of therapy is used to improve mobility, enhance circulation, reduce pain, increase balance and coordination, and improve tolerance to functional activities. Historically, water therapy benefits patients of all ages through the lifespan and proves to be very effective for several conditions, including:
Musculoskeletal or neuromuscular problems.
Sprains, strains, back and neck pain, fibromyalgia, or sports injuries. 
Rheumatoid or degenerative arthritis (osteoarthritis). 
Neurologic or general medical conditions.
Post-surgical rehabilitation (with healed incisions).
Rehab patients will be given first-priority use of the pool through a scheduling system. The pool has a Dual Propulsion System, allowing two people to swim against a current at one time. In addition, one side of the pool will feature an underwater treadmill creating a good resilience workout. 

Funding for the $400,000 pool project was provided through designated funds from Sidney Health Center, grant funds from the Foundation for Community Care, and a healthy donation from the Good Cents Store. With the completion of the latest construction project, the new indoor pool will allow members, guests and physical therapy patients an aquatic exercise venue year around, similar to the vision Dr. Ashcraft had with the indoor walking track years ago. 

To find out more about the services offered at HealthWorks, visit the website at sidneyhealthworks.org.