Welcome Home Dr. Chad Pedersen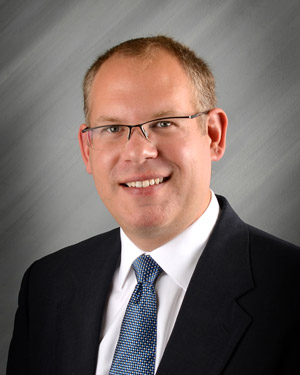 Chad Pedersen has always loved science, technology and people. Born and raised in Sidney, Dr. Pedersen is thrilled to be back home to meld his interests by practicing medicine at Sidney Health Center with a focus on people especially those with a cancer diagnosis. 
Dr. Pedersen, who has Montana roots, is Board Certified in Internal Medicine, Hematology and Medical Oncology and recently started working at the Sidney Health Center Cancer Care facility. He is the son of Teresa Pedersen and the late Allan Pedersen, who both grew up in this area, like his grandparents and great-grandparents who settled in this region. 
"Serving the MonDak area provides an exciting practice opportunity with unique challenges," stated Dr. Pedersen. "The team and services are already outstanding including the latest in radiation therapy, full-scale infusion services and an on-site chemotherapy pharmacist. My goal is to provide comprehensive cancer care close to home."
As a medical oncologist, Dr. Pedersen works as part of a team in treating cancer, knowing when to offer chemotherapy and ensuring safe and effective use of chemotherapy in combination with other treatments such as surgery or radiation. 
When asked what area residents need to know about cancer care in our area. Dr. Pedersen explained, "I'm mindful that Sidney Health Center Cancer Care is a small cancer center, and we live in a rural area. That said, the people of Eastern Montana and Western North Dakota can be assured that the treatment they and their loved ones receive at our facility is equivalent, if not superior, to the care at a major center."
Area residents might question how a small cancer center would dare to describe itself as superior to a major center. However, there are a few factors that come into play that can be reassuring to those diagnosed with cancer in our area, indicating bigger is not always better. 
Access can be an issue. A striking two-thirds of cancer patients across the country have difficulty obtaining care after diagnosis. Dr. Pedersen's mantra is "no sleepless nights." If you are diagnosed with cancer, Dr. Pedersen makes it a priority to see his patients right away following the diagnosis.
Patients also benefit from having a small care team that works closely together and gets to them. With Dr. Pedersen, patients do not have to worry about "getting lost in the system" or whether "one doctor knows what the other is doing" during one of the most stressful times of their lives.
Focus on prevention and early diagnosis. One of Dr. Pedersen's primary interests is prevention and early detection of cancer, which he feels is only possible by working and living in a community. Plus, there have been several advances in recent years that provide new opportunities to detect cancer at an early stage, when it is most curable. 
Cancer treatment is standardized across the United States according to published guidelines. Sidney Health Center has the full complement of services available including diagnostic imaging, surgery, radiation oncology, and now, full-time, on-site medical oncology to provide exceptional personalized cancer care, according to the established protocols.
Being board-certified in internal medicine, medical oncology, and hematology, Dr. Pedersen has the training and experience to provide expert cancer care to patients from the time of diagnosis through survivorship, whether it be in the cancer center, hospital, or clinic. Many cancer patients, unfortunately, do not have a primary care physician. In addition to being an oncologist, he is trained as an internist and hospitalist which is helpful in managing complicated medical patients. Rounding out his practice, Dr. Pedersen works specifically in the hematology branch of internal medicine which includes the diagnosis, prognosis and treatment of blood-related disorders such as leukemia, hemophilia and lymphoma to name a few. 
Being in the community, Dr. Pedersen believes he can provide a "home" for cancer patients. "Anyone can develop acute leukemia. While I am trained to treat acute leukemia, those who are diagnosed with this condition would need services that are only available at a specialized center. After spending weeks in a hospital setting, nothing feels better to an acute leukemia patient than going home and being in remission. With the services available locally, I can be a 'link' between a patient and his or her leukemia specialist, making it feasible and safe to come home."
Dr. Pedersen received undergraduate degrees from Harvard and Montana State University. He obtained his medical degree (M.D.) from the University of North Dakota. He completed his post-graduated medical training, residency and fellowship, at Gundersen Health System (La Crosse, Wisconsin). Gundersen Health System is nationally recognized for palliative and end-of-life care. While at Gundersen, Dr. Pedersen served as chief resident. 
In his free time, he enjoys running, hiking, and the outdoors. In 2016, he hiked the Appalachian Trail, the 2000-mile long footpath from Georgia to Maine.