Sidney Health Center begins multi-phase clinic remodel
The Sidney Health Center Board of Directors recently approved to move forward with a multi-phase remodel at the clinic. The stamp-of-approval permitted up to $5.7 million in financing for facility improvements to accommodate more medical providers in the future and create a more efficient utilization of space to better serve patients.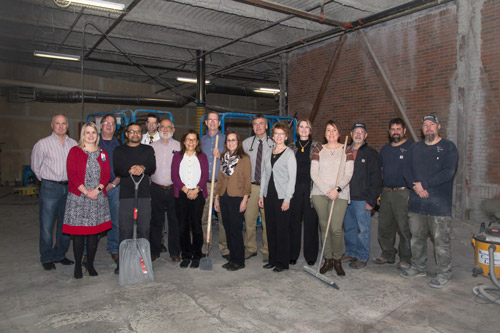 Early in 2017, Sidney Health Center started working with A&E Architects of Billings, MT to re-design the clinic to consolidate service lines including primary care and surgical specialties. Originally, the clinic was built to accommodate independent providers in the mid-70s. At that time, physicians maintained their own businesses and rented space from the organization to manage their practices. 
In the last ten years, medical practices have transitioned to an employee-based model with new graduates looking for opportunities and settings where they can collaborate and work closely with their colleagues. As a result, the once-standard clinic module featuring three exam rooms per physician is giving way to open plans in which caregivers share common workspaces and flexible exam rooms. 
The current infrastructure makes it difficult to recruit in more medical providers due to the lack of free space. The clinic suites are at full capacity. With input from the medical providers, senior leadership and community representation, A&E worked to design a space where providers want to practice medicine and patients ultimately want to receive care. 
"With the successful recruit of two new family medicine physicians slated to start in August 2019, the Board feels that the timing is right to update the clinic," stated Randy Johnson, Sidney Health Center Board of Directors Chairperson. "These improvements are projected to improve work-flow among staff and accessibility for patient care."
Fortunately, leadership had the foresight that the day would come when the clinic would need to be remodeled. With the major construction project in 2008, an area between the clinic and Extended Care was shelled-in to accommodate for growth in the future. The first phase of the clinic remodel project is to tie-in the unfinished, shelled-in space with an existing clinic suite to prepare a primary care suite. 
Kringen Construction, who is the general contractor of the project, started demo between the empty suite and the shelled-in space this past week. The building renovation is slated to take approximately 18 months to complete all four phases. 
Funds for the project will be secured through hospital revenue bonds that Sidney Health Center will be issuing through Richland County and will be directly placed with US Bank. 
Sidney Health Center officials are asking patients and guests to pardon the noise and appearance during the transformation. However, it is anticipated that the new clinic areas will be well-worth the temporary inconvenience.