Volunteer contributions play important role at Sidney Health Center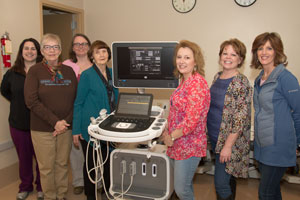 Typically when shopping, customers may not think about how their purchases are making an impact in their community. However, the Caring Corner Gift Shop and Good Cents Store recently showed just how much of an impact that shopping at their stores can make.  
The volunteer staffed businesses donated $100,000 to Sidney Health Center for the purchase of a new 3D/4D ultrasound machine.  The new state of the art machine allows the Sidney Health Center Radiology department the ability to service multiple patients at the same time, cutting down on wait time.
"With our high volume of patients utilizing the Ultrasound modality, this additional machine is just what we needed to accommodate the OB/GYN, Cardiovascular, Breast and Interventional procedures we do here at Sidney Health Center," stated Linda Labatte, Sidney Health Center Imaging Director. "The volunteers who give of their time and funds are so very valuable to the health and well-being of our community.  To them I say, "THANK YOU!""  
Because it can be used in the most delicate conditions without major side effects, ultrasound has become one of the most popular diagnostic methods among both patients and physicians. Ultrasound uses high-frequency sound waves to produce moving images of the body's internal soft tissue structures. It provides a safe, fast and relatively painless means of diagnostic imaging on an outpatient basis.
The system's powerful imaging capabilities support a variety of common exams, including OB, blood vessels, thyroid, and testicular exams. It also offers advanced imaging capabilities specifically beneficial in the evaluation of breast masses.
"My volunteers at the Good Cents Store are extremely hard working and conscientious individuals who love that their work is helping bring much needed medical equipment to the area," stated Carla Houchen, Good Cents Store Director.
The Caring Corner Gift Shop and Good Cents Store are both staffed by volunteers and managed by Sidney Health Center.  Volunteer duties include selling merchandise, handling cash, pricing and restocking items, and displaying merchandise.  With overhead expenses kept to a minimum, funds raised through the stores help to purchase much needed medical equipment at Sidney Health Center.
"The Caring Corner is a fun little shop with lots of pizazz. We work hard to carry unique clothing, jewelry and home décor. With all the great items we offer in the store, the very best that we offer are our volunteers," commented Diana Meehan, Caring Corner Gift Shop Director.  "When you come to the Caring Corner, you will be met with a friendly smile from one of our 30 volunteers. My volunteers are lovely and by far are the best part of managing the gift shop!" 
The Caring Corner Gift Shop is located in the main entrance at Sidney Health Center.  The retail gift shop is open Monday through Friday from 9:00 a.m. to 4:00 p.m. The Good Cents Store is a second-hand store, located at the end of East Main in Sidney with store hours:  Monday through Friday 9:00 a.m. to 4:00 p.m. and Saturday 12:00 a.m. to 3:00 p.m.
Additional Volunteer Opportunities
In honor of National Volunteer Week, Sidney Health Center wanted to recognize all compassionate volunteers that play an important role in providing excellent care to our patients, residents and guests.  Sidney Health Center offers a wide range of volunteer opportunities for individuals that are committed to community service. Currently, there are over 250 volunteers that help in various departments and facilities at Sidney Health Center.  
The Lodge is often assisted by volunteers through its beauty shop, for Bible Studies, and other special events. Extended Care volunteers assist in efforts to expand the personal touch residents receive while living there. The resident-centered focus and approach drives the services and care given and volunteers make it possible to provide an array of opportunities such as participating in a gathering of crocheting together, playing pinochle, reading, and traditional services such as the beauty shop services, assistance with BINGO, leading Bible Studies, and at special events that feature entertainment.  "Our volunteers are a vital component to the residents' enrichment of all that is vital and important to sustaining quality in their daily lives," commented Extended Care Activities Director.  "We treasure those hours they selfishly commit to the residents. They are, indeed, special people in our eyes and part of the Extended Care Family." 
In addition to over 20 volunteer members on their Board of Directors, the Foundation for Community Care relies on volunteers to help with a variety of fundraising efforts.  "Volunteers help us with nearly everything that we do.  From organizing and attending special events, assistance in mailing campaigns, and spreading the mission of quality care in Richland County; our volunteers are the lifeblood of our organization," stated Gina Heckey, Senior Executive, Foundation for Community Care. 
Other specialty trained volunteers include those that serve through the Ambulance Service, Pastoral Care and the Hospice department.  After completing a 15 hour training course, Hospice volunteers offer companionship by sitting and visiting with patients allowing families an opportunity to take a break.  The volunteers may also complete errands for the patients and families if needed as well as assist with mailings and other activities in the Hospice office.  Volunteers through the Pastoral Care services are trained pastors in the area that offer chaplain care.  Ambulance service volunteers complete an EMT training class and State and National testing to receive their license before serving their communities.
Sidney Health Center is also blessed by numerous individuals and groups that donate items to various departments.  The OB department is often gifted with handmade hats, blankets and burp rags that are passed on to new families.  The Emergency Department has been gifted comfort items that are given to patients including stuffed animals, blankets and coloring kits.  Cancer Care patients have received beautiful quilts and kits that contain personal items.
If you would like to make a difference by volunteering at Sidney Health Center, please call the volunteer services office at (406) 488-2116 and you will be directed to the appropriate department volunteer coordinator.