Sidney Health Center upgrades to a 4D Ultrasound System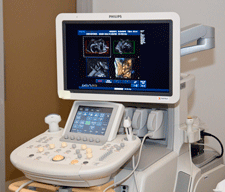 Sidney Health Center now has a 4D ultrasound system from Philips Medical Systems, providing advanced diagnostic imaging capabilities for patients and clinicians.
The Philips 4D (or real time, 3D) imaging technology allows patients to view the fetus and internal organs as if they were being held in the hands. Because it can be used in the most delicate conditions without major side effects, ultrasound has become one of the most popular diagnostic methods among both patients and physicians. Ultrasound uses high-frequency sound waves to produce moving images of the body's internal soft tissue structures. It provides a safe, fast and relatively painless means of diagnostic imaging on an outpatient basis.
The system's powerful imaging capabilities support a variety of common exams, including OB, blood vessels, thyroid, and testicular exams. It also offers advanced imaging capabilities specifically beneficial in the evaluation of breast masses.
"It's exciting to offer 4D imaging for our patients," commented Linda Labatte, Radiology Manager. "Ultrasound imaging offers a relatively low cost and non-invasive way to look inside the body. By upgrading to a 4D system, we now have the ability to acquire a higher level of diagnostic information that may reduce the need for a more invasive procedure."
The system's revolutionary workflow features greatly benefit the ultrasound technician and their patients. The Philips 4D ultrasound machine is referred to as an "intelligent" system because it is designed to adapt to the technician's exam needs, making their job faster and easier.
The new ultrasound machine features an adjustable, articulating flat screen LCD monitor that can be positioned so that it can be viewed from almost any direction. This allows patients the ability to see images during scanning, as well. The system can be operated by intelligent voice-command. A highly moveable control panel increases the technician's flexibility to work around the patient, and the system's sleek profile makes it easy to move to wherever it is needed.
With this new upgrade at Sidney Health Center, the Philips 4D intelligent ultrasound system has the potential to:
• Make ultrasound exams much faster
• Help patients and their physician better visualize and understand their condition
• Help identify the nature of suspicious breast lesions sooner utilizing new, higher resolution, higher frequency transducers
• Enhance diagnostic capability, thus reducing or eliminating the need for more expensive or invasive tests and procedures
• Provide clearer ultrasound images, especially in difficult-to-image patients
• Guide catheters and needles in 3D space without radiation exposure
Sidney Health Center is pleased to be able to offer this significant improvement in radiology services to the patients of the MonDak region. Sidney Health Center has been providing quality healthcare services to the area since 1907.