Sidney Health Center upgrades to a 160-Slice CT Scanner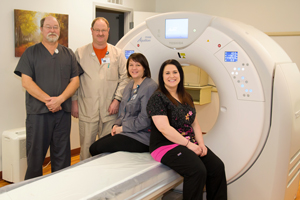 Sidney Health Center recently installed a new CT system that will offer patients the highest level of image quality with advanced technologies to reduce radiation dose. The Toshiba Aquillion Prime 160 multi-detector CT system is designed to lower radiation, make exams more comfortable and safer for patients while providing the information required for diagnosis.
"We are thrilled to be offering the most advanced CT technology available to the residents of the MonDak region," stated Linda Labatte, Radiology Manager. "We were able to upgrade from a 64-slice machine to the 160-slice machine at a better rate on our lease agreement. It was a great opportunity to bring the latest technology to the area for the benefit of our patients."
As patient safety is of the upmost importance, the new CT system features a full suite of dose reduction technologies to help improve patient safety in CT imaging, while maintaining the highest image quality possible. These technologies include Sure Exposure, Sure Exposure Pediatric, QDS and Boost3D.
Sure Exposure automatically adjusts the dose levels each patient received based on their size. That way, the system is able to acquire the highest quality images with the least possible amount of exposure to radiation. Using state-of-the-art software that sharpens the image, Sure Exposure provides optimum image quality at lower radiation levels, enabling information to be gathered with less radiation.
Because pediatric patients are more sensitive to radiation, it is even more critical to limit the amount of radiation exposure they receive. Sure Exposure Pediatric includes the dose reduction benefits of Sure Exposure while adjusting the scan to the specific needs to each pediatric patient. By simply entering the patient's age or weight, Sure Exposure Pediatric automatically makes the adjustments needed to acquire the quality images required for accurate diagnoses with the least amount of radiation possible.
QDS and Boost3D are noise reduction algorithms designed to improve image quality without increasing radiation dose and sacrificing image resolution. Applying QDS and Boost3D can achieve dose savings while preserving reconstruction speed.
All of these technologies available on the new CT system work to provide high-quality images at the lowest radiation doses possible.