Sidney Health Center set to host another "Live it up!" event for local women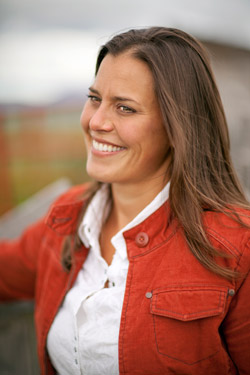 Sidney Health Center will host its annual "Live it up!" event for women on Thursday, September 28 with a focus on living your best life. The theme for the evening is "Be the Best Version of You." 
Once again, the evening promises to be fun, educational and entertaining. The festivities will kick-off at the Richland County Fair Event Center with a social at 5:30 p.m. featuring a light menu catered by the Pizza House. During the social hour, there will be door prize drawings from local businesses, time to mingle with friends over a glass of wine, opportunities to learn more about managing your health, and a special corner dedicated to Sidney Health Center's newest service, Advanced Aesthetics. Jacquelyn Free, FNP will be the emcee for the evening and will introduce our guest speaker, Sarah Calhoun, who is an inspirational, keynote speaker from White Sulphur Springs, Montana.  
Sarah Calhoun has nearly two decades of leadership experience in both non-profit and small business sectors, working in the outdoor education industry before founding Red Ants Pants in 2006. Calhoun has been called a "revolutionary figure in rural business today" and a "powerhouse of inspiration for women in business." Her dynamic style and inspiring experiences as an entrepreneur make her a highly sought after keynote speaker. She has given two TEDx talks, dozens of keynote addresses, and has been featured on national television programs such as CNBC, CNN, and Bloomberg. 
Tired of wearing men's work pants that didn't fit, Calhoun designed pants that would fit, function and flatter working women. Red Ants Pants are made in the USA and is based out of White Sulphur Springs where the storefront, distribution center, and international headquarters all reside in an historic saddle shop. Known for their grass roots marketing efforts, including 'Tour de Pants,' the direct sales business model is proving effective. 
To show support for the hard-working side of Montana and beyond, the Red Ants Pants Foundation was born in 2011. The Foundation supports women's leadership, working family farms and ranches, and rural communities – the three things most important to Calhoun and the Red Ants Pants Community. 
To take part in this fun, educational program individuals must be 21 years of age. All "Live it up!" events are designed to empower women to live life to the fullest by encouraging them to care for themselves and the ones they love. 
Tickets are available at Sidney Health Center's Caring Corner Gift Shop for $25.00 per ticket prior to the event and $30.00 at the door. Reserved tickets are also available for $150 for six tickets through the Marketing and Communications Department. Call today to reserve your table at (406) 488-2595.