PET/CT testing now available at Sidney Health Center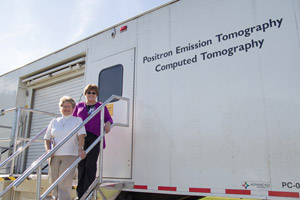 Sidney Health Center is pleased to announce the addition of PET/CT imaging through a mobile service on a monthly basis starting this month. 
"DMS Health Technologies brings PET/CT technology right to our doorstep on a monthly basis," stated Rick Haraldson, Sidney Health Center CEO. "This is a wonderful addition to our imaging department and provides an important diagnostic tool for the cancer care services." 
PET/CT imaging is fascinating technology that has been an important imaging modality in Oncology for many years. PET scan detects the metabolic signal of rapidly growing cancer cells and the CT scan provides a detailed picture of the internal anatomy, revealing the size, shape, and location of abnormal cancerous growths. Alone, each test has particular benefits and limitations but together, the total image provides a more accurate diagnosis. 
Positron Emission Tomography and Computed Tomography (PET/CT) assists physicians and patients in the management of disease including:
Early detection of disease
Precise staging and localization of disease progression
Accurate monitoring of the effects of therapy
Single exam with superior imaging information 
More recently, PET/CT has been approved by Medicare for use in the diagnosis and care of patients with Dementia. By locating areas of decreased glucose metabolism in the brain, a PET scan is the only test capable of rendering a clinical diagnosis of Alzheimer's disease. Thus PET/CT use is becoming common in the offices of Neurologists and Primary Care Physicians as well. 
Sidney Health Center is excited to provide this invaluable medical test every fourth Wednesday of each month by partnering with DMS Health Technologies. 
DMS Health Technologies mobile imaging services has earned the Joint Commission's Gold Seal of Approval. In fact, overall customer satisfaction is at 99% as measured and tracked by a third-party patient survey vendor. 
PET/CT appointments are scheduled through the outpatient coordinator at Sidney Health Center as prescribed by a patient's primary care provider or specialty physician.