Sidney Health Center recruits full-time medical oncologist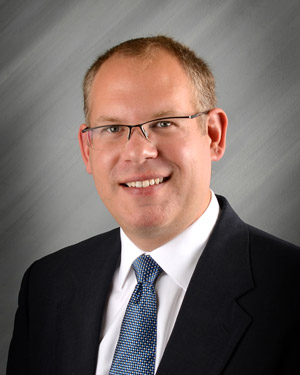 Sidney Health Center is pleased to announce the successful recruit of Chad Pedersen, M.D. Dr. Pedersen joins the medical staff as a Medical Oncologist.
Dr. Pedersen, who was born and raised in Sidney, is American Board Certified in Internal Medicine, Medical Oncology and Hematology. As a Medical Oncologist, Dr. Pedersen is a cancer specialist, providing care from the time of diagnosis through treatment and survivorship for all types of cancer. In addition, he works in the hematology branch of internal medicine which includes the diagnosis, prognosis and treatment of blood-related disorders such as leukemia, hemophilia, and lymphoma to name a few. 
As a trained internist, Dr. Pedersen has experience managing complicated medical patients, especially those receiving cancer care. In the past, Sidney Health Center has relied on visiting medical oncologists from Billings Clinic to work closely with the Cancer Care team to provide care locally.
"With the addition of Dr. Pedersen, we have the ability to connect area patients to a local medical oncologist right away following a cancer diagnosis," stated Rick Haraldson, Sidney Health Center CEO. "This is a very exciting time for our cancer care services as we strive to improve the continuity of care from diagnosis through remission for those affected by cancer." 
Dr. Pedersen received undergraduate degrees from Harvard and Montana State University. He obtained his medical degree (M.D.) from the University of North Dakota. He completed his post-graduated medical training, residency and fellowship, at Gundersen Health System (La Crosse, Wisconsin). Gundersen Health System is nationally recognized for palliative and end-of-life care. While at Gundersen, Dr. Pedersen served as chief resident. 
His professional interests include the treatment of lung, breast, and colon cancers. One of the focuses of his training was the evaluation and treatment of advanced (metastatic) cancers. Dr. Pedersen also has a particular interest in prevention and the early detection of cancer, areas in which he performed original research during medical school and fellowship. 
Dr. Pedersen joins the cancer care team, which is comprised of a radiation oncologist, physicist, radiation therapists, chemotherapy certified registered nurses, patient care coordinator and administrative support staff that work closely with the imaging, laboratory, surgical and pharmacy departments to provide compassionate care that is tailored to each individual. 
To learn more about cancer care services in the MonDak area, contact the Cancer Care Suite at 406-488-2504. Dr. Pedersen is willing to speak to area service organizations and groups interested in learning more about local cancer resources, the advancements in cancer treatment, and preventative measures.