Sidney Health Center earns Montana Quality Award
Sidney Health Center was honored this fall for successfully demonstrating high performance on several national quality initiatives. During the annual conference held by the Montana Hospital Association (MHA) in Billings, Sidney Health Center received a Hospital Quality Achievement Award from Mountain-Pacific Quality Health.
Sidney Health Center met several criteria to be considered for the award, including working on Centers for Disease Control and Prevention (CDC) Core Elements of outpatient antibiotic stewardship and taking steps to improve care transitions, medication safety, adult immunization rates and patient and family engagement and satisfaction. 
Sidney Health Center's leadership team is committed to quality, and their health care team demonstrated that commitment to earn the Hospital Quality Award.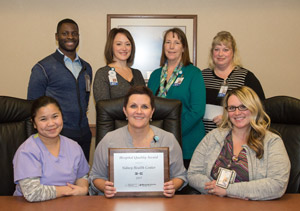 The pharmacy department was the driving force behind the antibiotic stewardship initiative and medication safety program. The antibiotic stewardship initiative involved tracking and educating staff and providers about the optimal use of antibiotics including not overusing antibiotics as well as prescribing them appropriately. The awareness of this initiative resulted in a decrease in unnecessary usage of antibiotics. 
The pharmacy department also worked on a medication safety awareness report with a focus on outpatient opioid prescribing habits. The blinded report helped local providers identify their opioid pain medication prescribing habits compared to their colleagues. As a result, the Clinic Pharmacy noticed a decline in pain medication prescriptions that can potentially become addicting when prescribed on an "as needed" basis.  
In addition, Sidney Health Center exceeded the recommended 85% compliance threshold of immunizing adults for influenza; 92% of the hospital patients and 93% of the employees received their flu vaccinations in FY2017.
Other criteria for the award included improving care transitions, sharing a patient experience with the Board of Directors and achieving at least a 3 star rating in the patient survey results.   
"It's a great honor to be featured at a state level for our commitment to quality," stated Rick Haraldson, Sidney Health Center CEO. "I think it says a lot about the kind of people that work for Sidney Health Center, who ultimately put our mission into action." 
Sidney Health Center was one of just seven hospitals in Montana to receive the quality award.  
For more information about Sidney Health Center's quality improvement efforts or about this award, contact Peggy Kopp, Quality Improvement Director at 406-488-2289 or pkopp@sidneyhealth.org.