Sidney Health Center named a "Top 100 Critical Access Hospital" for 2016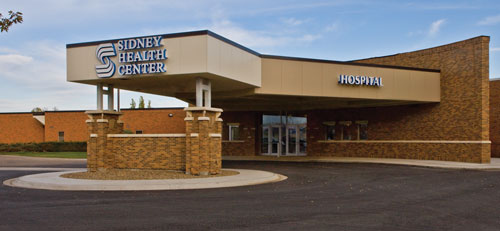 The National Rural Health Association (NRHA) recently announced the names of the Top 100 Critical Access Hospitals (CAHs) in America for 2016 and among the list was Sidney Health Center.
"I was thrilled to get the news and share the information with our staff. It is quite an honor when their commitment to providing exceptional care at all levels in the organization is recognized nationally," stated Rick Haraldson, Sidney Health Center CEO. 
Currently, there are nearly 1,300 Critical Access Hospitals across the nation. Six Montana facilities made the list this year including Sidney, Dillon, Lewistown, Livingston, Hamilton and White Sulfur Springs, and four North Dakota hospitals including Carrington, Devils Lake, Jamestown and Mayville. Sidney Health Center is among a small percentage of facilities nationwide to make the list multiple years – four times in the last six years. 
The NRHA announces the Top 100 Critical Access Hospitals in the nation based on the Hospital Strength Index by iVantage. This objective and in-depth analysis system uses 71 hospital-specific performance indicator variables across nine pillars of performance to determine the hospital percentile rankings. 
The top performers are recognized for excelling in managing risk, achieving higher quality, securing better outcomes, increasing patient satisfaction and operating at lower cost than their peers. 
A Critical Access Hospital is a hospital certified to receive cost-based reimbursement for Medicare. The reimbursement that these hospitals receive is intended to improve their financial performance and thereby reduce hospital closures. Sidney Health Center received the Critical Access Hospital designation in 2005. 
Critical Access Hospital requirements are very similar to general acute care hospitals. One of the main differences is the inpatient bed count. Critical Access Hospitals may have up to 25 acute care inpatient beds. For hospitals with swing bed agreements, any of its beds may be used for either inpatient acute care or swing bed services. 
Critical Access Hospitals must provide 24-hour emergency services, with medical staff on-site; or on-call and available on-site within a designated amount of time. 
Although the cost-based reimbursement is advantageous, it may not keep a hospital financially sound. Each hospital must perform its own financial analysis and continue to look for ways to be sustainable in the long-term. 
The Hospital Strength Index is a wonderful tool to help identify the top performing hospitals that have a safety net in place to help withstand the reduction in reimbursement funds available now and in the future. 
More detailed information about the Hospital Strength Index is available at www.ivantageindex.com.