Sidney Health Center Upgrades MRI Technology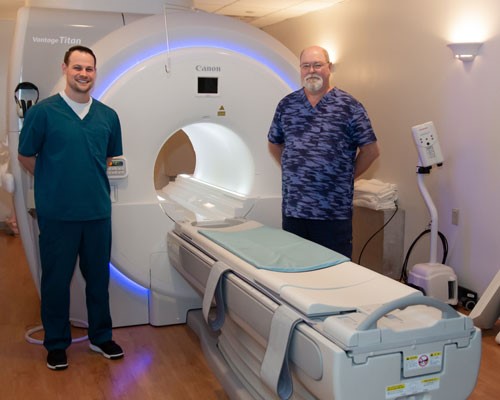 Sidney Health Center has acquired the latest in MRI technology by installing the new Vantage TitanTM from Canon Medical Systems.   The new open-bore of the 1.5T Vantage Titan MR system is 18 percent larger than other 1.5T systems on the market creating a more pleasant experience for patients. The new equipment features a large patient tube, outstanding image performance, and the largest available clinical field-of-view, providing the highest level of patient care and diagnostic capability in magnetic resonance imaging.
"The Canon Medical Systems Vantage Titan is a dramatic improvement over traditional open-bore 1.5T MR systems, as it offers the largest and widest bore available with a significant reduction in noise," said Linda Labatte, Imaging Director at Sidney Health Center.  "The Vantage Titan's large clinical field-of-view is unique for this bore size and produces high-quality images without compromising overall imaging performance.  In addition, the Vantage Titan's bore size offers more space for patients inside the machine and limits MR acoustic noise using Canon Medical Systems' patented PianissimoTM technology, which creates a better imaging experience for all patients, especially those with claustrophobia."
The Vantage Titan's patient-focused features significantly improve patient comfort and increase the range of patients who can be imaged with MR.  The open bore provides a greater feeling of openness for the patient, and Canon Medical Systems technology dramatically reduces acoustic noise, the most significant cause of patient discomfort during an MR exam.
Another distinct advantage of the Vantage Titan MR system is that it allows for a variety of contrast-free MRA imaging techniques. The expanded tests include Fresh Blood Imaging (FBI), Contrast-free Improved Angiography (CIA), Time-Spatial Labeling Inversion Pulse (Time-SLIP) and Time and Space Angiography (TSA). Contrast-free imaging is particularly important because it increases safety and reduces the risks associated with using contrast agents for some high-risk patients. 
The new Titan MRI also features dedicated Breast Coils.  "The addition of the Breast Coils means that Sidney Health Center has the capability to perform Breast MRI exams allowing patients to stay local for all of their breast care needs," stated Labatte.  "Not all hospital and imaging centers have dedicated breast MRI equipment.  When having a screening MRI, it is important to have it at a facility with dedicated equipment with the ability to perform an MRI-guided biopsy if needed.  We are excited to be one of these facilities that can diagnosis and treat all breast care needs."    

About Sidney Health Center
Sidney Health Center is a not-for-profit community based medical center that has been serving people in the MonDak region for more than 100 years.  Our passion for caring is shared by the doctors, nurses, and several hundred employees and volunteers.  Located in the heart of Richland County, the Eastern Montana campus includes an acute care hospital, clinic area, retail pharmacy and an extended care facility offering a complete range of services from birth through end-of-life, which is complemented by an array of outreach services.

About Canon Medical Systems USA
Canon Medical Systems USA, Inc., headquartered in Tustin, California, markets, sells, distributes and services radiology and cardiovascular systems, including CT, MR ultrasound, X-ray and interventional X-ray equipment. For more information visit Canon Medical Systems website at https://us.medical.canon. 

*EXCELART Vantage, Vantage Titan and Pianissimo are trademarks of Canon Medical Systems Corporation.