New Ambulance Design is a Safe Bet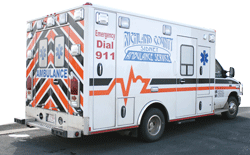 The Richland County Ambulance Service has created a new design for the recently purchased ambulance. Instead of the traditional red and blue colors that have graced previous ambulances, Rau Design helped create a new design that features orange and black reflective strips on the ambulance.
"Orange is a color that can be seen the furthest away," stated Josh King, Richland Ambulance Service Director. "With this new design the ambulance will stand out, helping to keep the ambulance volunteers, patients and those around us safe. All new ambulances that are purchased will have this new design on it."
The new ambulance has additional safety features including LED emergency warning lights and a back-up camera system. The LED warning lights shine brightly even in daylight helping other vehicles on the road see the ambulance coming. The back-up camera system allows the driver to look at a monitor and see any obstructions behind the ambulance before moving.
The ambulance also features privacy windows that enhance patient confidentiality. EMTs and patients can see out the windows, but by-standers will not be able to see into the ambulance from the outside.
The ambulance design is one example of how departments at Sidney Health Center are looking at ways to deliver high-quality patient care in a safe environment. Since 2005, Sidney Health Center has been part of the nationwide healthcare safety initiatives with the primary goal of becoming a center of excellence for our patients, residents, guests and staff that is based on a culture of safety.