Mathieu Recognized as Extended Care Resident of the Year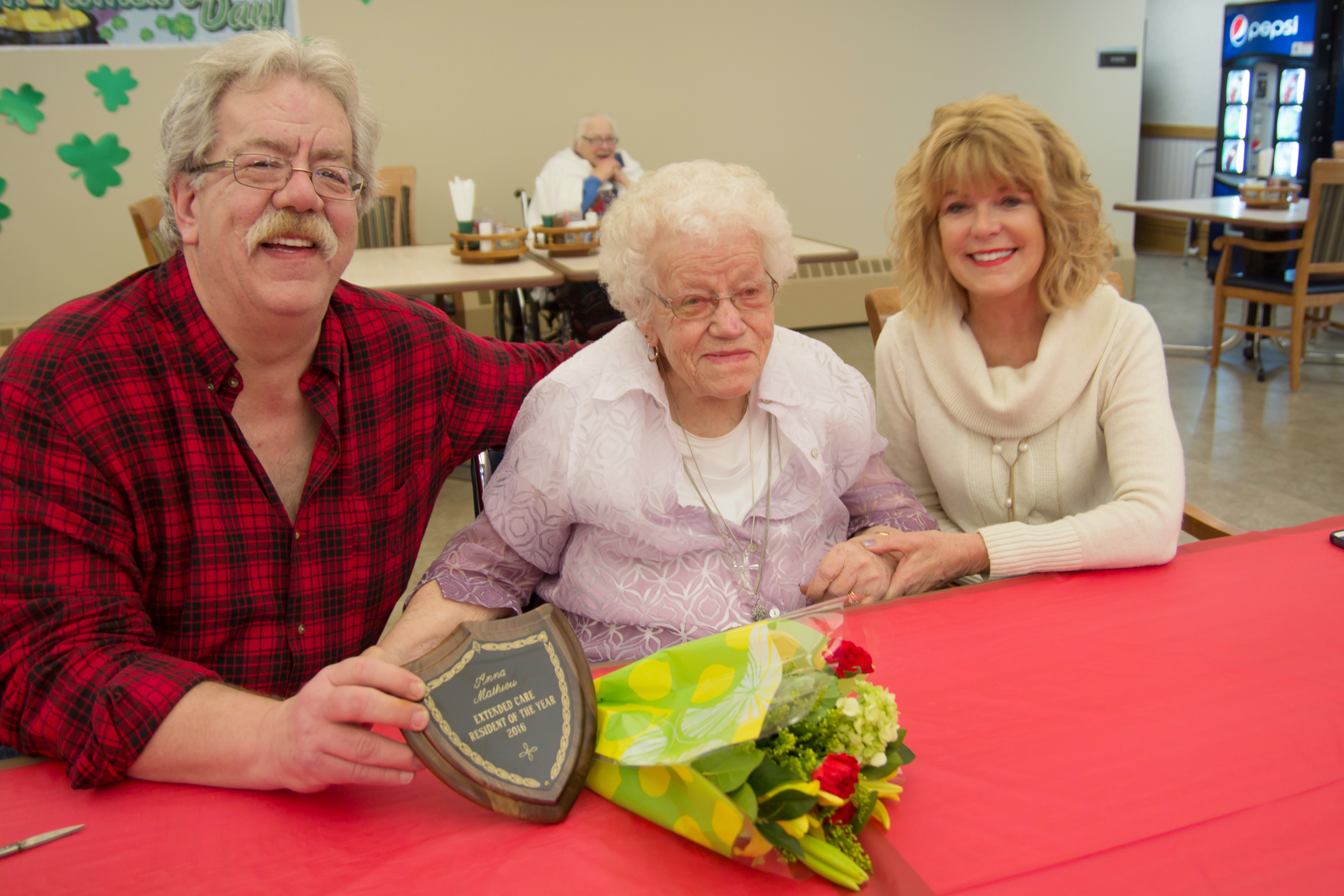 Sidney Health Center Extended Care recently named Anna Mathieu the 2016 Resident of the Year. Anna was honored at a celebration on Tuesday, February 21 in the dining room at Extended Care. Family, friends and staff gathered to celebrate the occasion with a brief program including special music, a cake in her honor and refreshments.
Anna has called Extended Care her home for almost 13 years. Her private room is a reflection of her previous home accented with homey touches and seasonal decorating. She has always loved the holidays and would diligently decorate the family home to make each holiday a special one. Her beloved son Bruce visits daily and is instrumental in changing the décor as the seasons change through the year.
Anna continues to make friends at Extended Care. Prior to moving in, she spent three years visiting her husband Burt, when he was a resident. Anna was a faithful wife and visited him on a daily basis until his passing in 2001, shortly before their 50th wedding anniversary. The time spent with Burt during his last years helped make her move into Extended Care a little easier, as she knew many staff members and had developed great relationships.
Many area people know Anna as an elementary teacher. She taught for several years before retiring in 1984.  To this day, retired teachers often come for coffee to visit with her. In fact, several people who are past students enjoy sharing their memories of when she was their teacher. Her love of reading continues and is always appreciative of those who share good books with her.
Through the years, Anna's personal interests have included sewing, knitting, cooking and faith. She has three children including Nancy, Brent and Bruce, who have families of their own including four grandchildren and seven great grandchildren.
Through quality nursing care, activities, self-improvement, and friendships, Extended Care proves there is more to aging than growing old. The goal is to show others how companion animals, the opportunity to care for other living things, and the variety and spontaneity that mark an enlivened environment can succeed where pills and therapies fail. In short, Sidney Health Center Extended Care believes:
•   Aging is a natural and normal life process
•   Aging should not limit a person's right to experience life to its fullest
•   People should be able to live their life at their highest level of health, independence, and well-being
Often, people feel more comfortable in surroundings that meet their individual needs for friendships and activities, as well as safety.  In striving to meet each individual's unique and specific needs, Extended Care offers specialized environments with specialized staff.
Extended Care continues to work with volunteers to offer activities that interest the residents. If you are interested in becoming a volunteer, please contact the Engagement Services Director at 488-2338.