Addition of Medical Physicist brings advanced radiation therapy treatments to MonDak region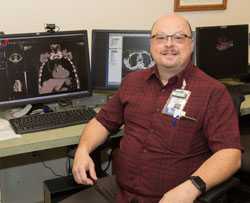 Sidney Health Center's Cancer Care is pleased to announce the expansion of its conventional radiation therapy to include Stereotactic Body Radiation Therapy (SBRT) and Stereotactic Radiosurgery (SRS) with the addition of a full-time medical physicist on staff. 
Advanced treatment programs like SBRT and SRS require a medical physicist to be onsite for these treatments. Tim Stack is a medical physicist with 25 years of experience who has worked remotely for Sidney Health Center for the past six years. Stack oversees the technical side of radiation therapy, such as dosimetry treatment planning, dosage, machine stability mechanisms, and quality control. 
In January 2011, Sidney Health Center added radiation therapy to its line of outpatient oncology services with the installation of a TomoTherapy Hi-Art radiation treatment system. Unlike traditional radiation therapy equipment, TomoTherapy combines CT scan imaging with its cancer treatment delivery, ensuring the most accurate radiation treatment with the fewest side effects. In addition, the TomoTherapy platform provides the capability to upgrade and provide SBRT and SRS treatment programs. 
With conventional therapy, radiation is delivered in relatively small doses over the course of several weeks, with patients receiving daily treatments during that time. On the other hand, SBRT allows physicians to deliver a higher dose of radiation over the course of two to five treatments.  
Dr. Lyle Harrison is Sidney Health Center's Radiation Oncologist who works with the medical physicist to develop a radiation plan that ensures safe exposure to normal structures. Each SBRT session takes 30 to 60 minutes to complete, and unlike more invasive therapies, the patient leaves each treatment free of significant pain or side effects. Treatments do not have to be administered on consecutive days, but the entire course of therapy is usually concluded within 10 days. 
Typically, SBRT is used to treat small tumors in the head or lungs without damaging any surrounding organs. Secondly, SRS is a non-surgical radiation therapy used to treat functional abnormalities and small tumors of the brain. SRS can deliver precisely-targeted radiation in fewer high-dose treatments than traditional therapy, which can help reserve healthy tissue. 
Prior to adding SBRT and SRS to Sidney Health Center's Cancer Care services, cancer patients would have to travel out of the area to receive this type of sophisticated treatment. This new technology was made possible through funding from the Foundation for Community Care as well as fundraising events like Light the Park and Richland Rangers Shut Out Cancer. 
To find out more about Sidney Health Center's Cancer Care services including chemotherapy, IV therapy, medical oncology and radiation oncology, visit the website at www.sidneyhealth.org/service/cancer-care or call the Cancer Care Suite at 406-488-2504. The cancer care team is comprised of oncologists, specialists, nurses, pharmacists and therapists who take the time to understand and guide area cancer patients through their care plan.