Katharine King, RN receives oncology nursing certification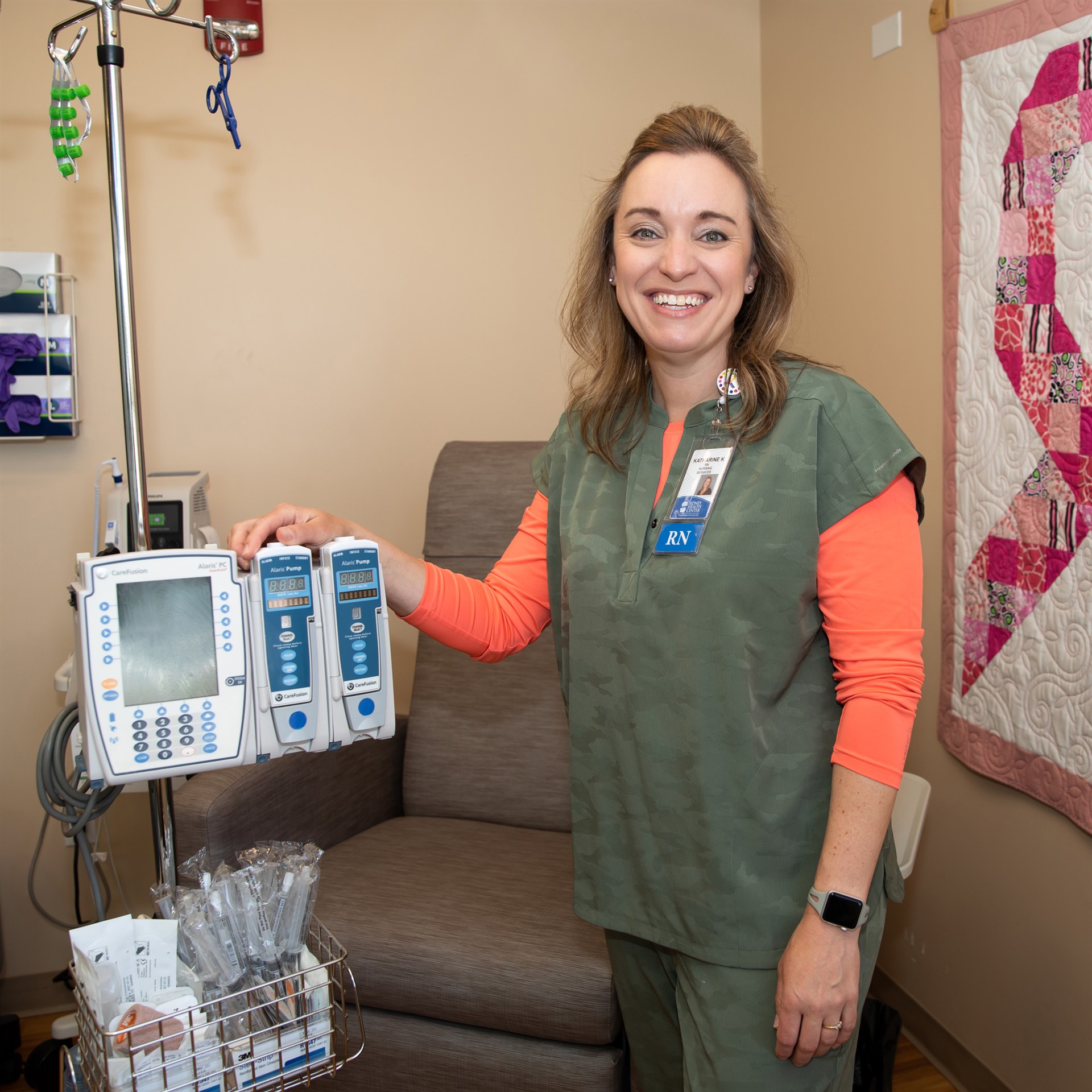 Katharine King, Registered Nurse at the Sidney Health Center Cancer Care recently passed the Oncology Certified Nurse (OCN®) Examination administered by the Oncology Nursing Certification Corporation (ONCC). There are more than 30,000 Oncology Certified Nurses (OCN®). These registered nurses consist of staff nurses, clinicians, educators, and managers.
Katharine started working at Sidney Health Center in 2005 and worked in OB, MedSurg, ER and CCU areas before transitioning to the Cancer Care Center in January 2018. As a registered nurse, Katharine cares for medical oncology patients, primarily in the infusion center administering chemotherapy, immunotherapy and other outpatient specialty medications. 
In addition, she serves as a core member of the American Society of Clinical Oncology Quality Training Program through a grant from the Stavros Niarchos Foundation. This grant aims to improve practices, like Sidney Health Center Cancer Care, in medically underserved communities by implementing quality improvement projects in their respective practices. 
Since joining the Cancer Care team, Katharine has continued to gain knowledge in this specialized field of medicine stating, "I truly feel that I belong in oncology nursing. The OCN certification allows me to continue providing safe and effective cancer treatments to our incredible patients that enrich my life each and every day." 
The OCN® Examination tests the knowledge necessary for the nurse to practice competently at the basic level, within the specialty of adult oncology nursing.

Oncology nursing certification is available to nurses who have:
a current, active, unencumbered RN licensure
a minimum of 24 months of experience as an RN within the four years prior to application
a minimum of 2,000 hours of adult oncology nursing practice within the four years prior to application,
and completed a minimum of 10 hours of continuing education in the specialty of oncology nursing or an academic elective in oncology nursing.
Certification for oncology nursing was introduced at the 1986 ONS Congress in Los Angeles, where 1,384 registered nurses passed the first examination. Since that time, more than 71,000 nurses have taken the examination. The OCN® Examination is offered at nearly 300 computer-based testing sites in North America.
Information about the OCN® Test is available at www.oncc.org. 
The Oncology Nursing Certification Corporation develops, administers and evaluates programs for certification in oncology nursing. The mission of ONCC is to promote health and safety by validating competence and ensuring life-long learning in oncology nursing and related specialties.
Sidney Health Center's Cancer Care team is comprised of full-time, board-certified medical and radiation oncologists, a nurse practitioner, medical physicist, nurses certified in chemotherapy administration, radiation therapists and administrative support staff who take time to understand and guide patients through their care plan. The team is rounded out with support from pharmacy, laboratory, radiology, surgery and rehabilitation services.
Links