Iversen Celebrates 40 Years Of Nursing, Dedication to Sidney Health Center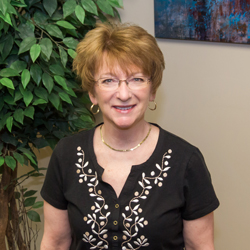 By Megan Dotson, The Roundup
Family Nurse Practitioner (FNP) Patti Iversen is celebrating 40 years of nursing at the Sidney Health Center (SHC). She began her career in May of 1976, when SHC was still the Community Memorial Hospital, following her graduation from Montana State University Northern's Department of Nursing program in Havre. Iversen moved to Sidney with her then-fiancé, now-husband and Sidney native, Bill Iversen. Starting out, a core-group of nurses gave her and several other nurses who still work at the hospital a good start in their field. Ellen Rasmussen, Norma Mitten, Beverly Siddoway, and Ellen Lorenz were among some of the first providers and employees Iversen had the privilege to work with.
Iversen would go on to receive her Bachelor's Degree from the University of Mary in Bismarck, ND; she worked with Dr. Jerome Kessler as a clinic nurse in the late 1980s and early 1990s where her interest in becoming a FNP grew.
"I think that I had been preparing to become a FNP for a couple of decades when I decided to do it. Dr. Kessler was an excellent teacher and I learned a lot working with him. Then long distance learning programs became available and made it possible to attend graduate school and still have a family and home life," explained Iversen. "Technology has made it possible for those in small communities to get advanced medical training without having to leave the area."
In 2002 she received her Master's Degree from Gonzaga University out of Spokane, WA, noting that you are never too old to follow your dreams. She adds, "I was almost fifty when I graduated with my Masters."
Over the years, she has seen a number of changes in technology, the community, and the SHC building itself. When she started working in 1976, the hospital was in its original 1970-constructed state; later, the Emergency Room and Radiology Department were added and eventually the addition of clinics and the nursing home were built. Iversen has seen the Sidney community go through two oil booms and commends the ability of the community and hospital to work together to meet overall needs. She's also been involved with the incorporation of electronic medical records. Epic was integrated into SHC in 2014 and Iversen was one of a few key individuals who helped SHC make a smooth transition. Having been involved in the previous electronic medical records system, she is currently the 'Provider Champion" individual who works with providers to customize, answer questions, and troubleshoot on the clinical side of the Epic system.
"As a Family Nurse Practitioner, Patti serves a vital role in the continuum of care at Sidney Health Center. She continues to work in several capacities including patient care, health education and clinical information systems," stated Rick Haraldson, Sidney Health Center CEO. "At this milestone in her career, we thank Patti for her dedication in helping us meet our mission."
"It is and has always been a privilege to provide care to the people of our community and to be accepted by them. I've had support and encouragement from many people along the way as I've continued to grow and I've been fortunate to work with good people," she said of her career. "Whether you're in a delivery room sharing in the joy of a new baby, or comforting someone in a time of grief or anxiety in the ER during a stressful situation, or simply hearing about the fun parts of a patient's life when you're visiting with them during a check-up, being allowed to share in people's lives is such a privilege."
Iversen continues to live and work in Sidney, where she has cultivated many lasting relationships, built her career, and raised her family. She and her husband have two children; their son Neil lives in Fargo, ND and their daughter Susan lives in Durango, CO. Bill Iversen works as a physical scientist at the USDA Agricultural Research Center; the two will celebrate 40 years of marriage in August.
"After 40 years, I continue to find nursing fresh and interesting," she concluded of her profession that is nothing less than a perfect fit.