Dr. Bergin and Dr. Faul recognized for 30 years of service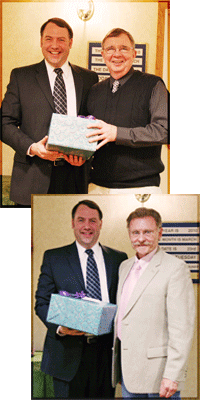 Sidney Health Center recently recognized Dr. Edward Bergin and Dr. Greg Faul for 30 years of service. In honor of National Doctors' Day, local physicians and their spouses were guests of Sidney Health Center at dinner where the honor was given.
Rick Haraldson, Sidney Health Center CEO, presented Dr. Bergin and Dr. Faul with a gift in recognition of their years of service and acknowledges their continued service to the residents of Richland County and the surrounding areas. "I believe it says a lot about our community when physicians of this caliber serve 30 plus years in one facility. We truly appreciate Dr. Bergin and Dr. Faul for their leadership and service in delivering quality care."
Dr. Bergin began practicing in Sidney in the spring of 1980 as a general surgeon. Through the years, Dr. Bergin has become a well-respected surgeon among his peers and the community at large. He is known for his top-notch quality of care.
Dr. Faul joined the facility as a radiologist in the summer of 1979. Dr. Faul provides an essential service to the community and continues to accommodate the ever-changing radiologic needs of the patients. He has been instrumental in expanding the department and progressing into the digital-age of technology.
"Sidney Health Center has been fortunate during its operation to retain a core group of quality physicians who have made Sidney their home and contributed to ensuring local healthcare is always readily available," commented Haraldson.
Currently, nine of the fourteen physicians at Sidney Health Center have served the MonDak region for ten years or longer, including John Andelin, MD; Lotfi Ben-Youssef, MD; Brett Bennion, MD; Edward Bergin, MD; O. Pete Council, MD; Greg Faul, MD; Lyle Harrison, MD; Michael LaPan, DPM; and Edward Pierce, MD.
Please join Sidney Health Center in recognizing the entire medical staff in honor of National Doctors' Day for their daily contributions in delivering exceptional care to the people that Sidney Health Center serves.