Answering the Call: Recruits Needed for Ambulance Service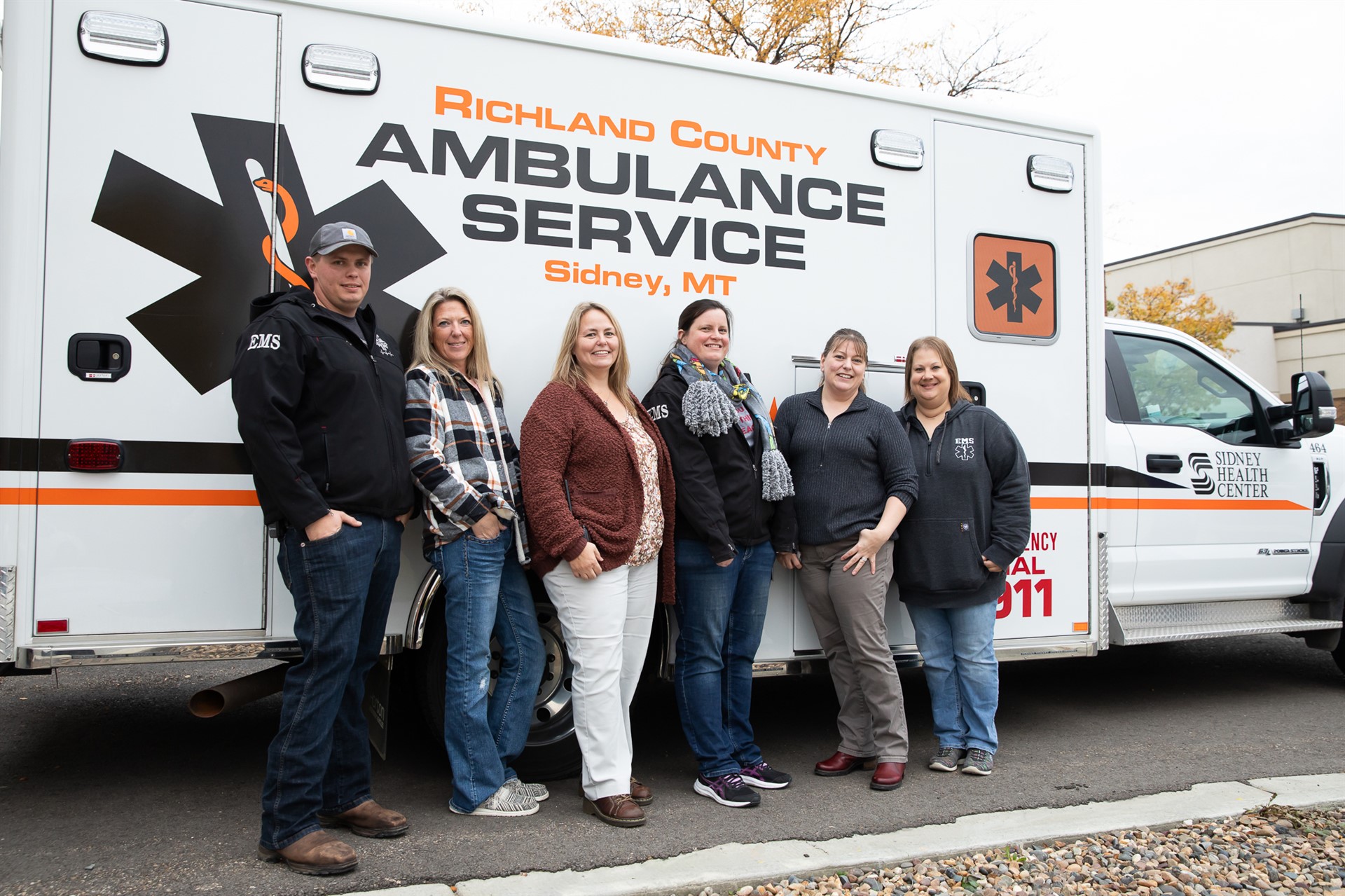 In the heart of rural communities, volunteer Emergency Medical Technicians (EMTs) often serve as lifelines, ensuring prompt and effective medical assistance. The Richland County Ambulance Service is looking for compassionate, hard-working, dynamic individuals to become members of its life-saving service.  An EMT training class will start November 6 and is anticipated to end March 27.

The course includes classroom participation and offers hands-on skills stations that work to develop teamwork skills and prepare students for real life emergency situations.  "We set up stations where the trainees come in and assess the situation, treat and stabilize the simulated patient, and prepare them for transport to the hospital for additional care," said Danielle McGahan, Richland County Ambulance Lead Instructor.  "We try to be as hands on as possible."  Students also participate in ride alongs and work an ER rotation.

The Richland County Ambulance Service is an integral part of Sidney Health Center's emergency services and vital to patient care. The chances of patient survival in a medical emergency situation increases in direct correlation to the speed with which care is administered.  Richland County is fortunate to have ambulance services spread throughout the county with ambulances located in Fairview, Lambert, Savage and two in Sidney, and to have more than forty dedicated Nationally Registered EMT volunteers from all four communities.  More trained EMTs in a community result in faster response times in emergency situations. 

The local communities play a significant role in sustaining the EMS system. "The heartbeat of the EMS system is the dedication of local individuals who answer the call to serve, ensuring that help arrives when it's needed most," stated Renee Williams, Director of Emergency Services at Sidney Health Center. Due to the high number of emergency calls, the ambulance service is actively looking for individuals who are eager to embrace an exciting and fulfilling opportunity that directly influences the community's well-being.

The service is desperately needing more volunteers in the Fairview and Sidney communities with a large volume of the calls originating in these areas. Since January, more than half of the 92 Fairview calls were responded to by the Sidney ambulances, tallying over 50 runs in Fairview. During this time, Sidney ambulance has responded to 427 day calls and 323 night calls, totaling 750 calls overall. As indicated, local volunteers are the key to sustaining this vital EMS service in these respective areas, ensuring quicker response times for emergent healthcare needs.  

The on-call schedule for Fairview, Lambert, and Savage offers flexibility to accommodate personal schedules. EMTs who are available when a call arises are the ones who will be dispatched to respond. Williams emphasized that while this schedule provides convenience for EMTs, it relies on a substantial number of volunteers within each community to ensure its success.  

People of all ages and backgrounds are encouraged to sign up for the upcoming course.  The current EMTs make themselves available to help mentor and answer questions that the trainees may have.  Instructors offer additional skills and practice sessions when needed.  "We understand that the strength of our ambulance service depends on the quality of training our students undergo. We are committed to offering our support in every way to ensure the success of each and every individual," stated McGahan.

Individuals interested in this EMT training can call Danielle McGahan at (406) 488-2105 or email her at dmcgahan@sidneyhealth.org. Class size is limited, and an application must be filled out and returned by October 20, 2023.  
Links