Cancer Care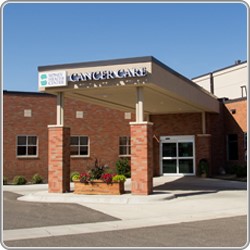 Sidney Health Center Cancer Care services are centralized in one-convenient location.  Cancer Care services include chemotherapy and IV therapy and radiation therapy using TomoTherapy technology. 
 
Cancer patients and their families can use the private entrance located on 14th Avenue Southwest. The entrance features a circular driveway for easy access to the Cancer Care area with designated parking lot for those going through cancer treatment.
 
The staff includes a full time radiation oncologist, a full time medical oncologist, registered nurses, radiation technologists and support staff.
Outpatient Oncology

Sidney Health Center's outpatient oncology clinic provides prescribed chemotherapy treatments, education and support for referred patients and/or their families.
Click here for more information about this service.
 

Radiation Therapy

The first of its kind in Montana, Sidney Health Center installed a TomoTherapy Hi-Art radiation treatment system, which is one of the most advanced cancer treatment systems in the area.
Click here for more information about this service.