Pharmacist on the spot interview
October 21, 2020 by Pharmacy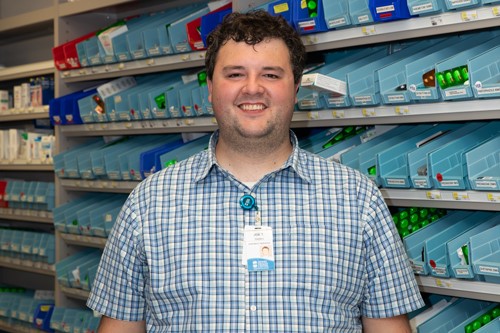 For National Pharmacy Week, a few staff members were asked to participate in a question and answer about working in Pharmacy.  The first "Pharmacist on the spot interview," is with Joseph Tabor, Pharmacist at Sidney Health Center.

Why did you choose to work in the pharmacy profession?
I actually did not "choose" to work in pharmacy, I was kind of led to it.  I originally went to school to be a chemical engineer, I got burnt out and decided to take a break.  I came to Montana for 2 years and then returned home to New York where I got a job as a cashier at Walgreens.  I worked there for a while before I transferred to a Walgreens store in Missoula, MT so I could finish my degree in chemistry. I decided against finishing my degree and worked at Walgreens full time.  I ended up working in the pharmacy as a technician where I realized how much I loved the profession. I then went back to school and obtained my Doctor of Pharmacy.

What do you do?
I work in both the Clinic Pharmacy and the Hospital as a pharmacist.

How does your job improve patient care?
As a pharmacist, our job is to monitor the medications that patients are given to verify the dosing and timing of things is done accurately.  We also check to make sure that the medications being given are appropriate and that the benefits outweigh the risks of giving said medication.

Do you have an interesting pharmacy tidbit?
Dr. Pepper was invented by a young pharmacist named Charles Alderton who sought out to create a syrup that smelled like a drugstore. Alderton loved the way the scents of the syrups at the soda fountain mixed together and wafter through the air and captured that scent in a drink. He tried different combinations of syrup until he landed on a combination that was just right.
Thanks for participating, Joseph!