Sidney Health Center receives a Stroke Recognition Award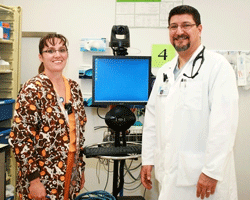 Sidney Health Center is only one of five Montana Critical Access Hospitals that received the Stroke Recognition Award at the Montana Hospital Association's annual conference in September 2011.
In 2011, the Cardiovascular Health Program and Montana Stroke Workgroup introduced the Stroke Recognition Award to bring awareness and recognize facilities for their effort to improve stroke treatment across Montana. The Recognition Award specifically selected Critical Access Hospitals who demonstrate that they have the infrastructure and commitment to provide high quality care for patients with acute stroke.
Each hospital that applied for the recognition had to demonstrate that they have evidence-based stroke order-sets and protocols, laboratory and radiology services available 24/7 and administrative commitment to treating acute stroke patients.
Statistics indicate that stroke is the leading cause of adult disability and the fourth leading cause of death in the United States. Last year, over 2,000 Montana families were directly impacted by the devastating effects of stroke and less than 40% of Montana's population live within an hour's drive to a stroke center.
For these reasons, infrastructure at rural facilities is critical to reducing death and disability due to stroke. In addition, Sidney Health Center is one of five facilities in Montana that installed a Tele-Stroke DOC system in their Emergency Department.
The Tele-Stroke DOC system provides two-way audio/video communication between a rural Emergency Department and a stroke specialist. The system also allows neurologists to review CT Scans of the stroke patient and make recommendations regarding treatment in a timely manner. The benefit of using the Tele-Stroke system is that it allows patients in rural areas to have access to a stroke specialist almost instantaneously.
Know the signs and symptoms of stroke:
- Sudden numbness or weakness of the face arm or leg
- Sudden trouble seeing
- Sudden confusion, trouble speaking or understanding
- Sudden loss of balance or coordination
- Sudden severe headache with no known cause
Know what to do if you or someone you know experience stroke symptoms:
- Call 9-1-1 immediately
For more information about stroke, please visit the link listed below.