Richland County Ambulance Service Offering First Responder Course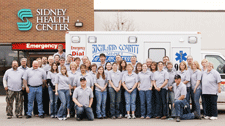 The Richland County Ambulance Service (RCAS) will be holding a First Responder course starting in February for individuals interested in helping their community through the ambulance service.
As Eastern Montana continues to grow and change, it is critical for emergency medical services to be available at all times, in all locations. Richland County is fortunate to have ambulance services spread throughout the county and a dedicated volunteer team, but additional volunteers are always needed.
"The First Responder program has given more individuals an opportunity to be involved with the Richland County Ambulance Service and has brought some much needed relief to each of our services around the county," stated Josh King, RCAS Director. "We hope that this course will continue to have a good turn out and add additional reinforcement to our volunteer service while still providing Richland County with the best care possible."
The First Responder course is designed to be a shorter time commitment than the EMT Basic class while retaining much of the crucial training involved, allowing them to become valuable assets on the ambulance. The course will cover a broad range of emergency medical subject matter, and will provide individuals with the knowledge to assist on the ambulance. Aside from classroom lessons, the course also focuses on hands-on skills stations that work to develop teamwork skills and prepare students for real life emergency situations.
People of all ages and backgrounds are encouraged to sign-up for the upcoming course. Classes will be held for three hours at a time, two days a week. The course will offer interested individuals the chance to learn the skills of emergency medicine through a more conducive time schedule. Becoming a first responder will require 54 hours of training, spanning about 8 weeks. Upon completion first responders will have the option to take a course that transitions them into the EMT Basic level.
Individuals interested in training to become a First Responder should call the Richland County Ambulance Service at (406) 488-2180 to reserve an interview session.