Dr. Leszek Jaszczak, radiologist joining Sidney Health Center's medical staff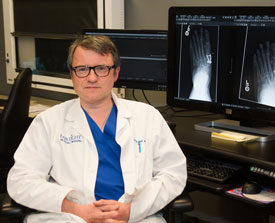 Sidney Health Center is pleased to announce the addition of Leszek Jaszczak, M.D. Dr. Jaszczak will join the medical staff full-time in July 2015 as a diagnostic radiologist when Dr. Gregory Faul retires after more than 35 years of service at Sidney Health Center.  
Dr. Jaszczak, who is American Board Certified in Radiology, has several years of experience serving residents in the MonDak region. In 2006, he opened Fairlight Medical Center in Williston. During Dr. Jaszczak's tenure he has worked closely with Sidney Health Center's radiology department providing diagnostic services as needed.  
Dr. Jaszczak received his medical degree from Wayne State University of Medicine in Detroit, MI and went onto complete his residency at Detroit Medical Center. Dr. Jaszczak has nearly 20 years of experience in radiology and continues to keep abreast in the latest imaging services including mammographic, magnetic resonance and computed tomography.  
Rick Haraldson, Sidney Health Center CEO stated, "We are thrilled to have Dr. Jaszczak join us on a full-time basis. We have worked closely with him for several years and look forward to expanding our imaging services to include some new procedures."  
Dr. Jaszczak will be on-site most days of the week and available via telemedicine otherwise.