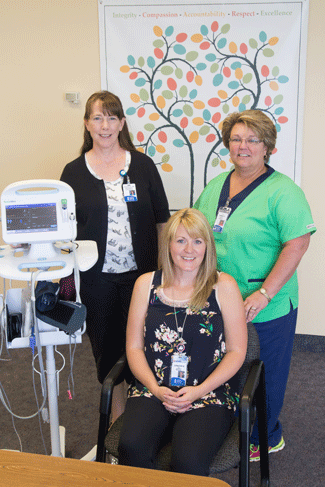 Each August, Sidney Health Center offers free blood pressure and blood sugar checks during the Richland County Fair and Rodeo. Clinical staff volunteer to man the booth that is located in the Agriculture Building and giveaway free bottled water to those who take advantage of the screenings. The service is always well-received by the public and the booth typically averages nearly 200 screenings per day.
Occasionally, nurses record a high blood pressure and encourage individuals to keep an eye on it or follow-up with their medical provider. However, Friday afternoon August 7 proved to be an eventful shift for two nurses when they saved the life of an elderly woman after she passed out in Sidney Health Center's booth following a routine check.
Jennifer Reid, who is a registered nurse in the OB unit, took a lady's blood pressure and noticed that her pulse was extremely low. "When I grabbed her hand, she was a little clammy and I felt the need to ask a few more questions to understand her overall health," Reid stated. During their brief conversation, the lady passed out in the chair.
Quickly, the nursing staff went into action and worked as a team to revive the woman. Peggy Kopp, who is also a registered nurse, assisted Reid in lowering the woman to the floor. "I thought she had fainted and would come to as soon as we elevated her feet," stated Kopp.
However, the woman remained unresponsive with no pulse. Kopp immediately started doing chest compressions while Reid instructed bystanders to call 911 and to bring an AED. Emergency personnel at the fairgrounds responded in a matter of minutes with an AED.
Kopp continued chest compressions until the ambulance crew applied an oxygen mask and shocked the woman with the AED. Thankfully, the patient regained her pulse and began breathing on her own prior to being loaded into the ambulance. EMTs transported her to Sidney Health Center where she was flown out to St. Vincent's Healthcare in Billings, MT. Later reports indicated that the woman was doing well despite the cardiac event.
After the incident, both nurses indicated that the key to her revival was that they acted quickly as a team and instinctively followed the guidelines that they have learned in ACLS (Advanced Cardiac Life Support) training. "I've always been told that the quicker the response, the better the outcome," stated Kopp, who worked as a charge nurse in the ER for several years.
"You want to push hard and fast, when administering bystander CPR," reiterated Reid. "Peggy did a great job doing compressions while everyone around us did their part in getting the help we needed. I was prepared to do whatever needed to be done."
In the combined 40 plus years of nursing experience, this was the first-time Kopp and Reid have performed bystander CPR outside of the medical setting.  Bystander CPR is also called Hands-Only CPR which uses just chest compressions to administer CPR. According to the American Heart Association's website, it has been proven to be as effective as CPR with breaths in treating adult cardiac arrest victims.
Anyone can learn CPR and administer it effectively. In fact, statistics indicate that effective bystander CPR provided immediately after sudden cardiac arrest can double or triple a victim's chance of survival, but only 32 percent of these victims get CPR from a bystander.* The American Heart Association encourages bystanders of an event to take action quickly. If you see an unresponsive adult who is not breathing or not breathing normally, call 911 and push hard and fast on the center of the chest.
The public can prepare to act in an emergency by simply viewing the Hands-Only CPR instructional video featured on the American Heart Association website at www.heart.org . Other hands-on resources include attending a local CPR training course that is offered by the Richland County Ambulance Service.
The next CPR Training Courses to the general public will be held on Saturday, September 26 and Saturday, October 17 at 10:00 AM both days in the Sidney Health Center classroom. Attendees must be at least 13 years of age to attend. If you are interested in attending one of these sessions, please call the ambulance service at 406-488-2180 to reserve your spot. Class size is limited and registration is $35 per participant. This class is a certified CPR class that includes AED instruction.
Automated External Defibrillators (AED) are user-friendly devices that untrained bystanders can use in conjunction with CPR to save the life of someone having sudden cardiac arrest. Currently, more than 35 devices are located throughout Richland County in several public buildings including area schools as well as county buildings, like the Sidney Library, MonDak Heritage Center and Richland County Fair and Rodeo. More recently, AEDs were added to every sheriff vehicle in the case they arrive on an accident scene before the ambulance.
The National Heart, Lung and Blood Institute provides information on how to use an AED on their website. If you see a person suddenly collapse and pass out, or if you find a person already unconscious, confirm that the person can't respond. Shout at and shake the person to make sure he or she isn't sleeping. Check the person's breathing and pulse. If breathing and pulse are absent or irregular, prepare to use the AED as soon as possible.*
Cardiac arrests are more common than one might think, and they can happen to anyone at any time.*
·         Nearly 383,000 out-of-hospital sudden cardiac arrests occur annually, and 88 percent of cardiac arrests occur at home.
·         Many victims appear healthy with no known heart disease or other risk factors.
As indicated earlier, quick response is the key to successful outcomes with someone who suffers from cardiac arrest. Sadly, 70 percent of Americans may feel helpless to act during a cardiac emergency because they either do not know how to administer CPR or their training has significantly lapsed.
Recommendations advise individuals to renew their CPR certification every one to two years. Sidney Health Center nurses, who are ACLS certified, must renew their certification every two years as well.
"It's good to know that when you're placed in a situation that requires the use of CPR, all the training comes back to you and you instinctively respond," stated Reid. "Peggy and I really worked well as a team and I'm happy the outcome was positive."
*Sources: American Heart Association and the National Heart, Lung and Blood Institute.