2013 Path to Excellence Award Recipient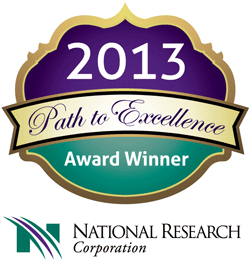 National Research Corporation, has selected client Sidney Health Center as a recipient of its 2013 Path to Excellence award. Sidney Health Center was recently recognized at the 19th Annual International Patient-Centered Care Symposium in Baltimore, Maryland.
National Research selected Path to Excellence award recipients based on their achievement within categories that patients have identified as being most important to the quality of their care. The award is only bestowed upon those organizations that are ranked by patients as being a top performer in one of the following categories: Rate Hospital, Specialty Hospital: Rank Hospital, Children's Hospital: Overall Rating, Adult: Would Recommend Doctor's Office, Pediatric: Would Recommend Doctor's Office, Catalyst Improvement Planner Champion, and Most Improved Client.

Sidney Health Center was one of two facilities selected out of 77 organizations nationwide as a Patient Outreach Program Top Performer based on their performance on the overall satisfaction with care at the facility question for four consecutive quarters. Greater than 96% of patients stated they were satisfied overall with their care at Sidney Health Center.
"National Research congratulates Sidney Health Center for their outstanding achievements," said Susan Henricks, President and Chief Operating Officer of National Research. "We understand that driving improvement changes across an organization takes an incredible amount of resources and dedication—and [organization name] has done exactly that. They are committed to providing the best healthcare possible for their patients and families."
As a 2013 award recipient, Sidney Health Center is among a select group of healthcare innovators leading the way on the path to patient-centered care.
"By partnering with National Research and utilizing its measurement and quality improvement solutions, wehave been able to implement changes and make the necessary adjustments to improve the patient and family care," said Nancy Dynneson, Clinical Services Administrator. "This improvement also gives patients and families the trust and confidence they deserve when seeking the right healthcare provider."


About National Research Corporation
For more than 30 years, National Research Corporation (NASDAQ: NRCIA|NRCIB) has been at the forefront of patient-centered care. Today, the company's focus on empowering customer-centric healthcare across the continuum extends patient-centered care to incorporate families, communities, employees, senior housing residents, and other stakeholders.
Recognized by Modern Healthcare as one of the largest patient satisfaction firms in the U.S., National Research is dedicated to representing the true voice of patients and other healthcare stakeholders. This integration of cross-continuum metrics and analytics uncovers insights for effective performance improvement, quality measurement, care transitions, and many other factors that impact population health management.
National Research is headquartered in Lincoln, Nebraska. For more information, call 800-388-4264, write to info@nationalresearch.com , or visit www.nationalresearch.com .
About Sidney Health Center
Sidney Health Center is a not-for-profit community-based medical center that has been serving the MonDak region for more than 100 years. Its mission is to help those we serve achieve their highest level of health and well-being. To meet the mission, employees are guided by five core values including integrity, compassion, accountability, respect and excellence.
Sidney Health Center's campus features a clinic, hospital, cancer care center, retail pharmacy and an extended care facility offering services from birth to end-of-life. Sidney Health Center also oversees The Lodge, an assisted senior living facility. Outreach services include the MonDak Clinic in Fairview, MT as well as the Richland County Ambulance Service in Sidney, Fairview, Savage and Lambert.