Care Flight
Sidney Health Center Care Flight offers high quality, affordable, air medical transportation for patients requiring emergent or urgent medical care that is not provided locally. Approximately 24 patients are flown out each month for critical medical conditions including heart, stroke, trauma, and pediatric needs.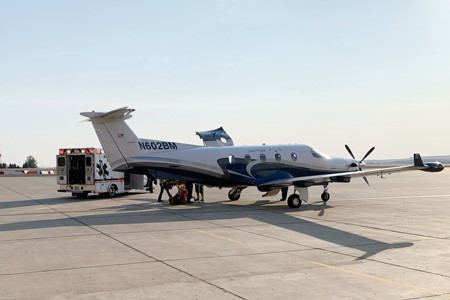 BENEFITS of CARE FLIGHT SERVICE
There are a multitude of benefits to having a locally stationed and owned air ambulance in Sidney. We have the ability to provide quick transition to the next level of care, set reasonable in-market charges and contract as an in-network facility with insurance plans to alleviate large out-of-pocket expenses for patients.
PILATUS PC-12 TURBOPROP FIXED WING AIRCRAFT
The aircraft, which travels at a rapid rate of speed, has a large cabin space for medical staff to provide the required care with additional seating to accommodate a loved one during transportation to regional destinations including Billings, Seattle, Salt Lake City, and Denver to name a few. The plane will be on standby at the Sidney-Richland Municipal Airport.
CARE FLIGHT TEAM
A highly trained team composed of critical care nurses and paramedics will be available 24/7 to provide the fixed wing transportation of community members who require specialized care that cannot be rendered to them locally. Sidney Health Center's Care Flight team will be composed of a Flight Nurse, a Flight Paramedic, and a Pilot in Command. Staff are trained and required to maintain certifications in adult, pediatric, trauma, neonatal, and other critical care areas. Upon initial hire and on a recurrent annual basis all Care Flight pilots undergo industry leading didactic and simulation training at the nation's premiere aircraft safety institution in Dallas, TX.
INSURANCE COVERAGE
We are actively working towards achieving an in-network status with all insurance plans that are present in the region. What this means is that when a physician or other medical professional orders air medical transport as the medically appropriate method of transportation, the patient would only be responsible for their personal insurance plan's applicable coinsurance, deductible, or co-pay. Patients can obtain a secondary coverage plan, such as a Medicare supplement plan, to help with their primary insurance plan's applicable coinsurance, deductible, or co-pay financial responsibility for in-network services. Sidney Health Center Care Flight is not an insurance provider and will not offer a supplemental program such as an air medical membership.
FINANCIAL ASSISTANCE
Patients will not be denied service by Sidney Health Center Care Flight based on their insurance status. Those who do not have insurance or are underinsured will have their applicable air ambulance charges processed through the same financial assistance programs and payment methodologies utilized for hospital related medical charges at Sidney Health Center.  View our financial assistance information.
THANK YOU to OUR DONORS
Donations in the amounts of $1.9 million from the Foundation for Community Care and an additional $1 million donation from the Richland County Oil Severance Fund took the financial pressure off Sidney Health Center to move forward with a joint venture with fAIRMED.
Contact Us
Hours
24/7

Location
On Campus

Phone
866-488-9110