Michael LaPan DPM, FACFAS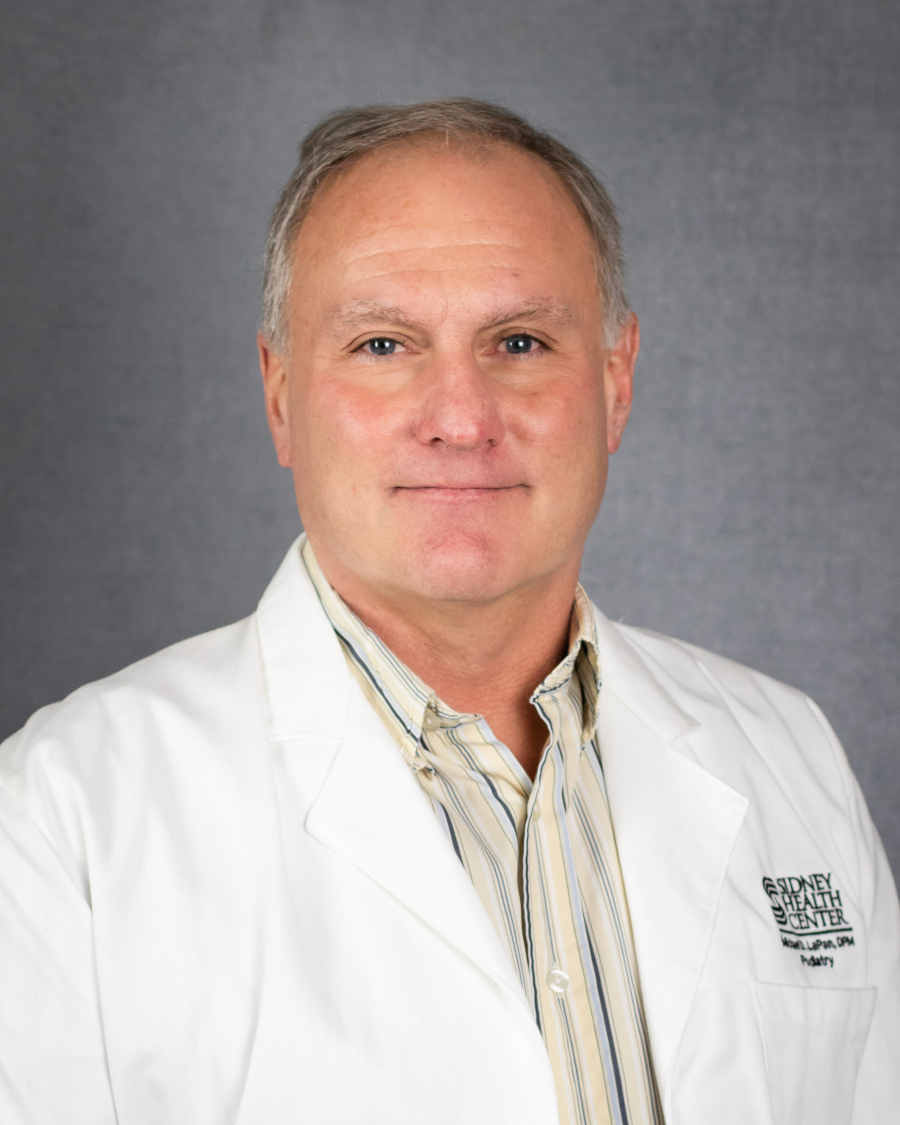 Specialty
Foot & Ankle (Podiatric) Surgery & Medicine
Medical School
New York College of Podiatric Medicine - New York, New York
Residency
Residency
• Podiatric Surgical Residency, Veteran's Administration Medical Center – Denver, Colorado
Fellowship
• Wound Healing, The Wound Healing Institute – Aurora, Colorado
Military
• Major, US Army; Chief, Dept. of Podiatry, Ft. Hood, TX
• Veteran Operation Desert Shield/Storm
• Meritorious Service Medal
Began practicing in Sidney in:
July 1993
Specializes In/Practice Includes
• Foot and Ankle Surgery/Deformity Correction
• Lower Extremity Wound Care
• Sports Medicine/Injuries
• Diabetic Foot and Amputation Prevention
• Foot and Ankle Arthritis and Skin Conditions
• Custom Braces/Orthotics/Shoes
Certifications
• Diplomate, American Board of Foot and Ankle Surgery
• Diplomate, American Board of Podiatric Orthopedics and Primary Podiatric Medicine
• ACLS
Professional Memberships
• Fellow, American College of Foot and Ankle Surgeons
• American Academy of Podiatric Sports Medicine
• American Diabetes Association
Since 1993, Dr. LaPan has been providing comprehensive foot and ankle care to the wonderful people of eastern Montana and western North Dakota. With over 35 years of training and clinical practice, he is the most experienced board-certified foot and ankle surgical specialist in the entire region. Treating patients of all ages, he strives to provide a complete approach including all forms of surgical and non-surgical care while taking into account the needs, desires, abilities and limitations of each patient to optimize their outcomes.
His journey began in New York with hardship where, at the age of 10, his father died suddenly leaving his mother to struggle with raising his two sisters and him. He earned a full academic scholarship to the very selective Hobart and William Smith Colleges where he obtained his BS degree in mathematics. Not one to shy away from adventure, he also experienced flying for the first time during this time and tandem jumped out of the plane on his first flight!
Following undergraduate college, he then earned his medical degree from the New York College of Podiatric Medicine in NYC and then completed his podiatric surgical residency in Denver, CO. Once this was completed, he followed with a rare fellowship in wound healing research and studies with Wound Healing in Aurora, CO. After a short time in private practice, he felt the need to fulfill his patriotic duty to the country and volunteered for service with the US Army. Stationed at Ft. Hood, TX, he served as Chief of Podiatry and earned, among others, the Meritorious Service Medal as well as surgical board certifications. He is also a veteran of Operations Desert Shield/Storm and remained in the Reserves for another 9 years obtaining the rank of Major.
Upon discharge, he and his wife, Judy relocated to Sidney. Numerous achievements have marked his career since then. At Sidney Health Center, he has served all medical staff office positions including Chief of Staff. He was appointed by former Gov. Martz and reappointed by Gov. Schwitzer to the Montana Board of Medical Examiners, where he held all offices to include being elected President, the first ever of his specialty. On the national level, Dr. LaPan served as President of the Federation of Podiatric Medical Boards and the National Board of Podiatric Medical Examiners. He has also passed the required surgical board recertification exams in 2002, 2012 and 2022.
An accomplished marathoner, Dr. LaPan continues to enjoy running, flyfishing, biking, skiing, and hiking among other sports and activities. Always one to keep his hands busy and creativity open, he enjoys building and art projects, especially oil painting. He is a lifetime member of the American Legion, Trout Unlimited (a non-profit dedicated to freshwater habitat conservation) and the Knights of Columbus.
Many people also know his wife, Judy, retired Executive Director of the Richland County Health Department. Together, they have provided over 50 years of service to healthcare needs in our community. More importantly, they are blessed with two grown sons. Matthew is an industrial engineer and Mark is a geoscience engineer – both proud Montana natives.